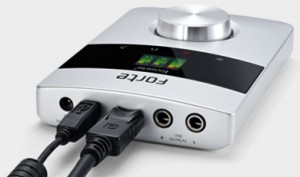 Gobbler is offering you a chance to win one of its "Favorite Things", the Forte USB audio interface by Focusrite.
Despite the physical size of the prize, we can tell you that this week's Gobbler's Favorite Things is going to be a biggie!

We've teamed up with Focusrite to offer you the new professional 2 in, 4 out portable USB audio interface, Forte ($749 MSRP).

Forte features two remote-controlled mic preamps which are in fact the same mic pre's that's featured in Focusrite's top-flight RedNet range. This super portable and super awesome interface is built into a solid aluminum case, features a color OLED display with touch controls and a single large control knob.

The ability to record your tracks from anywhere and then back your pristine project up to Gobbler, makes the Forte one of Gobbler's Favorite Things!
To enter the contest simply use Twitter or Facebook to share the Gobbler/Focusrite post for the particular day of the contest AND enter your info into the Gobbler/Focusrite sign up list on the blog post.
The contest ends September 30th, 2102, 11:59:59PM PDT.
More information: Gobbler