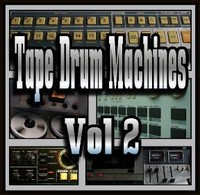 Goldbaby Productions has released Tape Drum Machines Vol 2, the follow up to Tape Machines Vol 1. featuring more classic drum machines given some tape love.
Tape Drum Machines Vol 2 features
10 Drum Machines and 3 Tape Machines. 1838 x 24 Bit drum samples.
Plus bonus: 36 x CR-78 Rex beats.
Drum Machines used: Linn Drum, CR-78, TR-626, DDR-30, Bohm, DR-55, RPM-40, RX-5, KPR-77 and the Synsonics Pro.
Tape machines used: Ampex valve 1/2 inch 2 track, Otari MX5050 1/4 inch 2 track, and the Hitachi 3 head Cassette deck.
Tape Drum Machines Vol 2 is available in a GURU version for $29 USD, and as a Wav Pack for $24 USD. A version for Native Instruments Battery 3 will follow soon.
Goldbaby has also released another free pack of samples.
The Tape TR-66 – Rolands lovely 70's drum machine gets some tape love. 113 x 24bit drum hits.
More information: Goldbaby Productions