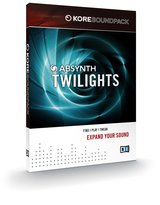 Native Instruments has recently released another addition to the KORE SoundPack series: Absynth Twilights, a collection of
tonal and atonal evolving atmospheres conjuring up everything from heavenly to nightmarish ambiences.
Absynth users may already be familiar with the sounds of Absynth Twilights, as they are derived from the Absynth Sounds Vol. 1-6 series published by Camel Audio. Well respected Biolabs sound designer Biomechanoid is one of the principle authors of the Absynth factory sounds. With the release of Absynth Twilight you can now use these sounds with KORE 2 or the free KORE Player.
The Absynth Twilights SoundPack comes with usual 200 KoreSounds, and 1,600 variations (8 morph pad positions for each KoreSound).
Preset names such as "Evil Munchkin Army" and "Sci-Fi Intermission" are a good indication of the type of sound you're going to get. You can listen to the audio demos on the product page to get an idea of what you'll get.
So what do I think?
Absynth Twilights delivers a large amount of quality pads and soundscapes.
According to Native Instruments, this SoundPack is perfect for game designers, score producers and ambient electronic musicians. I'd say it's great for anyone who's looking for that edgy sound that Absynth is known for: harsh & digital, warm & organic.
On the other hand, I can also image you just listened to the demo tracks and find yourself thinking "It sounds great, but will I actually use it?"
If you're that game designer, score producer or experimental musician, you get great value for money with Absynth Twilights, but I guess it's a typical YMMV type product.
More information: Native Instruments