Goldbaby Productions has announced the release of The StompBox808, a new sample pack featuring a new collection of sounds of the TR-808 drum machine by Roland recorded through guitar pedals.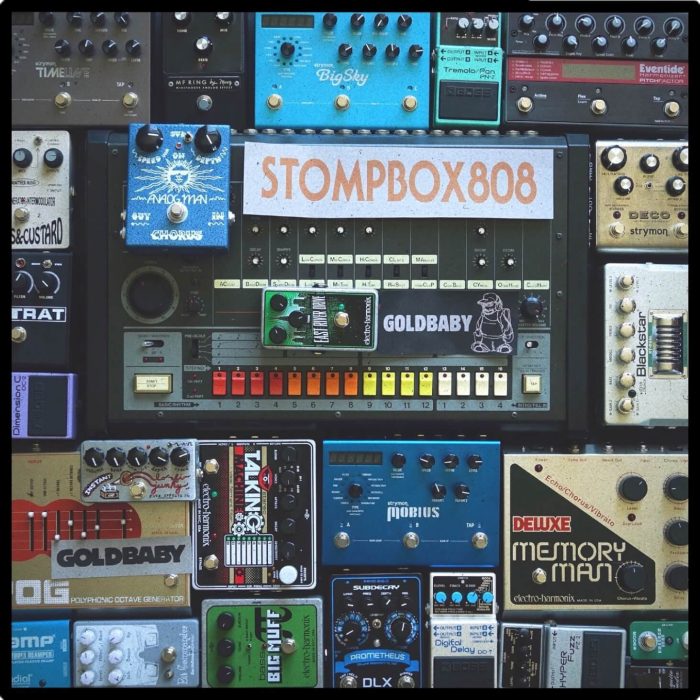 I have been using guitar pedals for sound design for many years. Distortion, fuzz, overdive, filtering, reverb, chorus, all manner of different pitch modulation, octave generators and Lofi FX. I don't know why I didn't think of this doing pack before… the 808 through these boxes is a sonic wonderland of drum goodness.

This pack contains a varied and useful palette of new 808 sounds. Not just full on distortion (although there is plenty) but also subtle saturation and new punchy, warm tones that you can only get through these wonderful little analog and digital stomp boxes. Also included are some crazy/weird drum sounds that you wouldn't even think came from an 808.

Chromatic kicks, congas and toms are mapped and tuned so you can play them on your keyboard (EXS-24, Kontakt and Maschine). All the samples are logically labeled and organised. With kits for Maschine, Geist, Battery, Kontakt and EXS-24. I have even created a PDF with all the kick and conga drum tuning info for those who don't have the software formats I have included.
StompBox808 features
2,350 wav samples (24 bit).
Maschine 2: 7 Projects, 17 Drum Kits, 9 x 77 Chromatic Instruments.
Geist: 17 Presets and 17 Kits.
Battery 3: 17 Drum Kits.
Kontakt 5: 17 Drum kits, 72 Instrument patches.
Logic Pro EXS24: 17 Drum Kits, 72 Instrument patches.
Ableton Live: 17 Drum Racks, 72 Simpler Patches, 20 Demo Clips, 2 Sets.
Also available as 16 bit wav for hardware samplers.
The sample pack is available for
More information: Goldbaby Productions