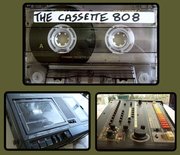 Goldbaby Productions has released another free sample pack.
Hugo writes:
I bought an old Marantz cassette machine to muck around with… So logically I had to hear what the 808 would do to it!
The Cassette 808 features 21 x 24 bit samples of a Roland TR-808 recorded to this Marantz deck.
Check this demo mp3 to hear what The Cassette 808 sounds like.
Visit Goldbaby's free stuff page to download this sample pack.