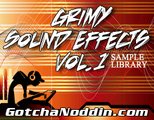 GotchaNoddin.com has released Grimy Sound Effects Vol. 1, a high definition sample library uniquely inspired for Rhythmic and Percussive Seasoning.
These sound effects are perfect for adding the final touch and detail on any style music.
Grimy Sound Effects Vol. 1 features
96 Sound Effects, 8 Kicks, 8 Snares, and 16 Hats.
Designed for all hardware and software samplers and offers 32bit, 24bit and 16bit files for Wav Format, Reason Refills, MC909, Fruity Loops, Motu MachFive, Halion, Battery, Kontakt and the EXS 24 Sampler.
Pre-programmed with 2 program files to load with the Akai MPC 500, Akai MPC 1000, Akai MPC 2000/XL (8 Floppy Disks), Akai MPC 2500, Akai MPC 3000 (8 Floppy Disks), Akai MPC 4000, Roland MV 8000, Roland MV 8800, Reason Refills, Korg Triton (Triton Studio 8 Floppy Disks) and can be imported into the Roland Fantom Series Keyboards and the Roland MC-909 (with additional RAM installed).
Grimy Sound Effects Vol. 1 is available for download for $42.49 USD (other media available as well).
Visit GotchaNoddin.com for more information and audio demos.