Time+Space has announced the of the eleventh module in Gothic Instruments' award-winning series of atmosphere creation tools – DRONAR Rolling Percussion.
Don't be fooled by the name, while DRONAR Rolling Percussion has an extensive collection of expressive drum and cymbals rolls (and can be used just for them!), its main draw is a massive set of beautiful, rich, atmospheric evolving pads harvested from an exotic new sound-world.
The rich organic sampled drums in the core library include timpani, tom-toms, bells, cymbals, gongs, triangles, tam-tams, a bass drum, snares, a vibraphone, an angklung, a xylophone and a balafon.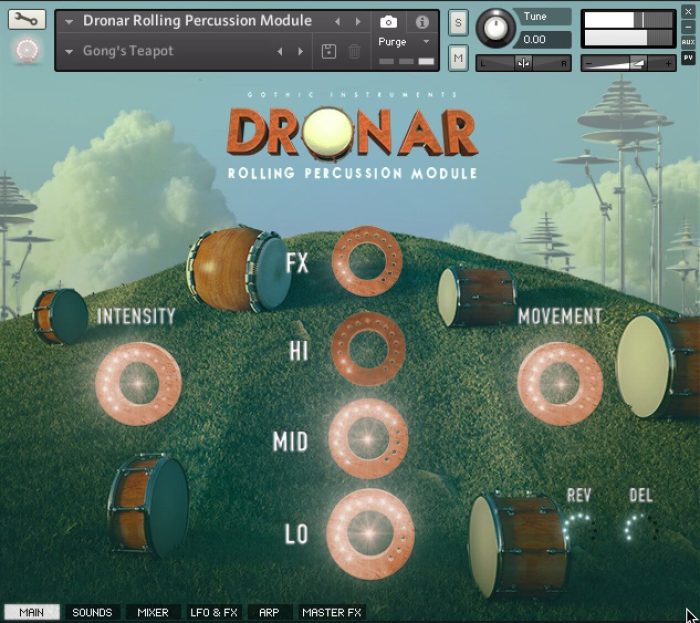 The instruments in DRONAR Rolling Percussion were performed recorded and further processed by sound design expert Alessandro Camnasio. As well as natural untuned drum rolls, we get tuned versions of most sounds that can be played on a keyboard for chords and rich arpeggios, all beautifully responsive to Mod Wheel expression for powerful swells and crescendos.
DRONAR Rolling Percussion features
Expressive atmospheric sound creator.
Includes 238 snapshot presets.
2214 samples.
Compressed to 4GB by Kontakt.
Developed for the full (paid for) version of Kontakt 5.8 or higher.
Sounds derived from Timpani, Tom-Toms, Bells, Cymbals, Gongs, Triangles, Tam-Tams, Bass Drum, Snares, Vibraphone, Angklung, Xylophone and Balafon.
Evolving, rich and complex soundscapes, pads and textures that would otherwise take hours to create.
An exotic new sound-world of forests, rainforests and alien deserts.
Glorious organic pads, and powerful percussion rolls.
Expert and beginner friendly.
7 pages of simple yet powerful features deliver massive control.
Dive deeper with DRONAR's unique independent arpeggiators.
Create your own rhythm patterns in amongst the pad magic with the Rhythm Editor.
Onboard FX provide further sound design opportunities.
DRONAR Rolling Percussion is available at Best Service and from Pulse Audio for 69 EUR / $67 USD.