Time+Space has announced the release of DRONAR Vintage Synth, a new module in Gothic Instruments' critically acclaimed product line of atmosphere creation tools.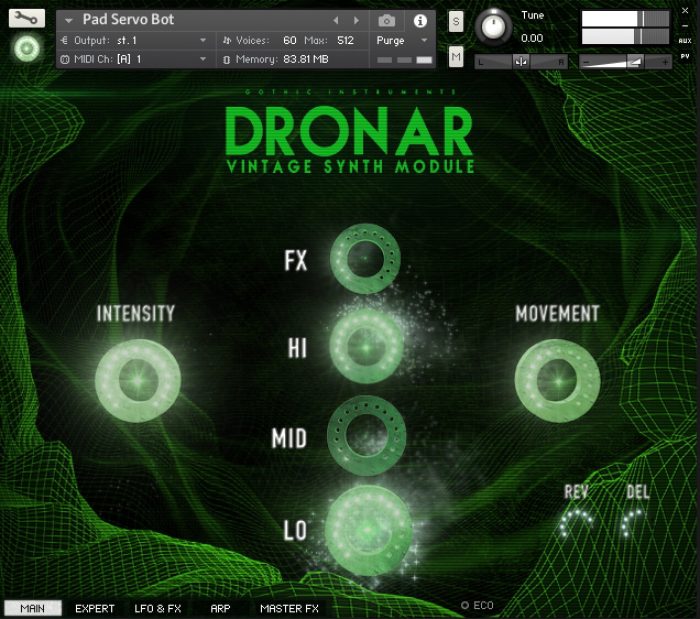 Vintage Synth comes with a retro futuristic vibe reminiscent of the classic 80s synth from which the sounds were derived.
Transport your audience into an epic audio universe brimming with trepidation, tension or wonder. From light, airy and ethereal to big, bold and dramatic, the sounds in DRONAR Vintage Synth are incredibly versatile for cinematic projects from sci-fi to thrillers to action genres and more. There's easily a place for them in ambient and electronic music too.

Just press a few keys and DRONAR Vintage Synth will generate a complete universe of rich evolving sounds. It automatically spreads out the chord in the mid-range, adds a root bass note, a high note and then adds evolving sound effects which can be easily customised using the 6 dials on the main page. This simple process allows you to play and tweak simultaneously for a truly expressive, and immersive experience.

Furthermore, DRONAR Vintage Synth features four additional pages of controls, FX and an innovative arpeggiator to really open up the possibilities of this revolutionary engine, bringing the sounds to life for a result that is rich and dramatic.

"The programming that´s gone into this is amazing, and I know that because I´ve got the real module here and I´ve NEVER got it to sound this good!!!" – Ty Unwin, leading TV composer.
DRONAR Vintage Synth features
Expressive soundscapes and atmospheric pads creator.
259 .nki patches.
2,589 samples.
Total library size: 3.43GB.
Developed for the full (paid for) version of Kontakt 5.7.1 or higher.
Raw audio material derived from a classic 80´s synth.
Sounds recorded and processed by Hollywood Trailer sound designer Alessandro Camnasio.
Evolving, rich and complex sounds that would otherwise take hours to create.
Highly customisable with easy to use controls.
The ideal tool for movie, tv and video game soundtracks.
Excellent for a wide range of genres.
Also great for dark ambient and electronic music.
Expert and beginner friendly.
5 pages of simple controls deliver massive control.
Dive deeper with DRONAR´s unique independent arpeggiators.
Random button for instant and inspiring new sounds.
Onboard FX provide further sound design opportunities.
The DRONAR Vintage Synth module for Kontakt 5.7.1 or higher (full version) is available with an introductory 20% discount price of £47.96 GBP / 56.76 EUR / $63.36 USD until December 21st, 2017.
Existing Gothic Instruments customers can use their loyalty discount to save an additional 20% off.
More information: Time+Space