Mathew Lane has announced the release of StereoDelta V2, an easy to use spatial processor for Windows and Mac.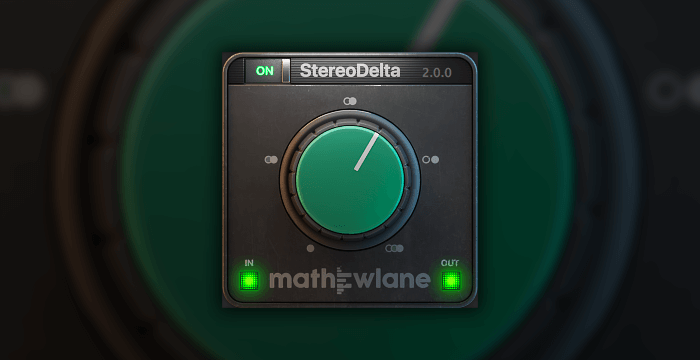 The plugin allows you to control your stereo image with one knob. From true mono to three dimensional width, using StereoDelta always maintains a natural sound.
StereoDelta V2 features a new GUI and adds Host Computer authorization support, next to iLok2 (or higher) USB dongle compatibility. Choose whichever authorization method you prefer.

Mathew Lane says "some might find the power of the DrMS plug-in a bit overwhelming. This is where StereoDelta comes in". One knob controls several parameters of the advanced DrMS algorithm inside at once. Well chosen internal parameter combinations make StereoDelta a flexible and creative tool for instant high quality useful and unique results.

StereoDelta's single control knob goes from true mono fold down (save all stereo info into mono) at the left of its range, over your original stereo at 12 o'clock, into 3D expanded stereo to the right. StereoDelta's DrMS style widening does not only make your soundstage wider, but also deeper, more open, more real. And always with the confidence of mono compatibility.
StereoDelta V2 features
Native AAX, AU, VST, VST3 – 32 & 64-bit plug-in for OS X & Windows.
Spatial audio processing based on the DrMS plug-in.
From true mono folddown – save stereo info in mono – to larger then life stereo with one simple turn.
Full mono compatibility.
Internal Autogain circuit for constant output level.
Host Computer authorization or iLok2 (or higher) USB dongle for easy authorization.
StereoDelta V2 is on sale for 33 EUR / $39 USD until December 31st, 2017 (regular 59 EUR / $69 USD). Prices ex. VAT.
StereoDelta V2 is a free update for existing StereoDelta users.
More information: Matthew Lane / StereoDelta V2