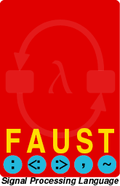 Grame – Centre National de Creation Musicale – has released version 0.9.43 of Faust (Functional Audio Stream), a functional programming language specifically designed for real-time signal processing and synthesis.
This version provides a major reorganization of the architecture system for better modularity and Open Sound Control (OSC) support. The code generation has been improved and the compiler offers new output possibilities for example the complete graph of the internal signal expressions as a .dot (graphviz) file.

The libraries and the examples have been extended: Julius Smith's libraries provides several new filters and effects (including various reverbs) and Romain Michon has ported the Synthesis Tool Kit (STK) to FAUST.
Faust is available to download under the GNU General Public License (GPL).
More information: Faust