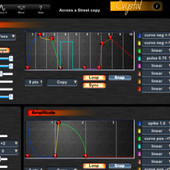 Green Oak Software has released version 1.2 of Crystal Synth XT, a virtual synthesizer app for iPad, iPhone and iPod Touch.
Crystal XT is a full featured semi-modular synthesizer, ideally suited to creating lush evolving soundscapes. Crystal VST has long been a popular synthesizer on the desktop. Crystal XT brings that same powerful synthesis engine to the iPad and iPhone. Crystal XT features MIDI keyboard input via the iPad's camera adapter or the Line 6 MIDI Mobilizer and sharing of sounds with the desktop version of Crystal.
Changes in Crystal Synth XT v1.2
New two octave keypad with selectable modes.
Patch designer on iPhone for creating patches.
Audio recording which may be copied to desktop.
Audio copy/paste to copy recordings to other apps.
Support for Line 6 MIDI Mobilizer to connect a MIDI keyboard to Crystal on an iPhone or iPad.
Patch breeding can now include up to 20 user patches.
High precision mode (drag vertically to get high precision after touching slider) for precise slider adjustments.
Crystal Synth XT is available to purchase for $4.99 USD. The basic version of Crystal has also been updated, now priced at $0.99 USD.
More information: Green Oak