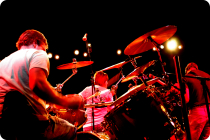 Groove Monkee has released Fusion, collection of over 900 MIDI loops covering several popular styles of Fusion music, played by Chicago session drummer Chris Morrow.
Fusion features
900 Royalty Free Loops played live.
3/4, 4/4, 5/4, 6-8, 7/4 and 7/8 time signatures.
Funk, Latin, Ballads, Shuffles and more.
6 variations and fills per beat.
Over 180 extra 1 and 2 bar fills.
4 and 8 bar drum breaks.
Conga grooves played by a professional.
Immediate access to all other versions.
Fusion MIDI Beats is available now via instant download or on CD for $39.95 USD.
Visit Groove Monkee for more information and audio demos.