Hachion Sound Japan is a new label that aims to sample traditional Japanese musical instruments such as the koto, shamisen, shinobue, shakuhachi, and taiko, and mix them with contemporary music of todays sounds.
The first title Various Shamisen Performance features a collection of recordings of the Shamisen Japanese traditional musical instrument.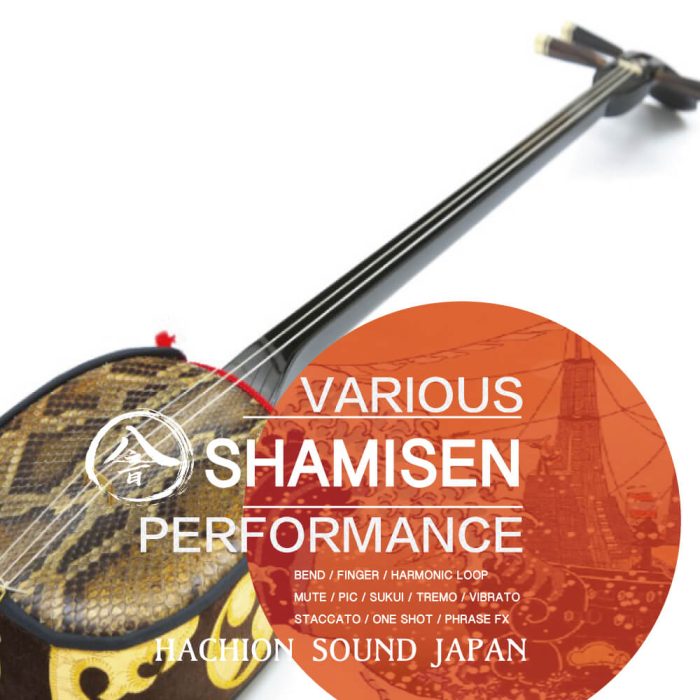 Played by Asako Mochizuki, the pack includes short sounds, loops and processed fx material.
The shamisen or samisen, also sangen both words mean "three strings"), is The shamisen is a plucked three-stringed instrument. Its construction follows a model similar to that of a guitar or a banjo, with a neck and strings stretched across a resonating body and is is played with a plectrum called a bachi.

The sound of a shamisen is similar in some respects to that of the American banjo, in that the drum-like do, amplifies the sound of the strings. As in the clawhammer style of American banjo playing, the bachi is often used to strike both string and skin, creating a highly percussive sound.

The lowest string is purposefully laid lower at the nut of the instrument, so that it buzzes, creating a characteristic timbre known as sawari (somewhat reminiscent of the "buzzing" of a sitar, which is called jivan).

The construction of the shamisen varies in shape, depending on the genre in which it is used. This product uses the most traditional and common type called "Tsugaru-Shamisen".
Various Shamisen Performance features
1.16 GB content, 24-bit/96kHz.
824 samples in total.
103 bend down samples.
107 bend up samples.
42 finger samples.
79 traditional phrase loops.
79 traditional phrase loops (effected).
42 mute hard samples.
42 mute soft samples.
16 phrase fx.
41 staccato samples.
42 sustain samples.
37 vibrato hard samples.
36 vibrato soft samples.
The sample pack costs £24.95 GBP. It is currently on sale for only £9.98 GBP as part of the Black Friday Sale at Loopmasters.
More information: Hachion Sound