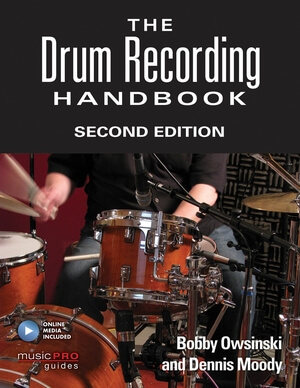 Hal Leonard Books has announced The Drum Recording Handbook, 2nd Edition, a must-have resource for serious hobbyists & bedroom producers.
Drums are the foundation of just about any kind of music, and a great drum sound is essential to a great recording, but that sound can be elusive. The Drum Recording Handbook, Second Edition, uncovers the secrets of making amazing drum recordings, even using the most inexpensive gear.

When asked why he wrote this book, author and producer Bobby Owsinski answers: "There are lots of books and courses that give you tips on drum miking, but they always approach it from the standpoint of a pro… This book takes a different approach. It assumes that you don't have the resources of a pro and that you have the barest of recording essentials to get the job done. It assumes that you only have a minimum of gear like most people starting out, because in the end, none of that matters. There is a lot more to getting a drum sound than the gear you use and that's what you'll discover herein."

"Every session that I did on my own in those early days, I remember wishing that I had an experienced sound engineer with me who could take the time to answer my questions and save me the frustration of trying to figure things out, so I could get on with the fun of recording. Well, this book is the next best thing to having me with you to answer your questions," says Dennis Moody, co-author and Grammy nominee and engineer on platinum-selling albums.

The book gives exclusive drum-tuning tips and techniques from the famous Drum Doctor and great session advice from interviews with hit-maker drummers, including Bernie Dresel, Johnny Hernandez, Ricky Lawson, Brian MacLeod, Kellii Scott and Dave Weckl.
The Drum Recording Handbook features
Typical mics and miking techniques used by the pros to get great sounds (and how to get those same results without the high-end gear).
Can't-miss mic placement for all drums, cymbals, and room mics.
Simple alternative miking techniques that work every time.
How to get the best headphone mix for your drummer.
The secret to a great-sounding drum mix.
The Drum Recording Handbook is available for purchase for $29.99 USD.
More information: Hal Leonard Books