Plugin Boutique is offering a 50% discount on Dehumaniser 2 by Krotos, a powerful vocal processing tool perfect for a range of vocal effects, from monsters to robots and many more.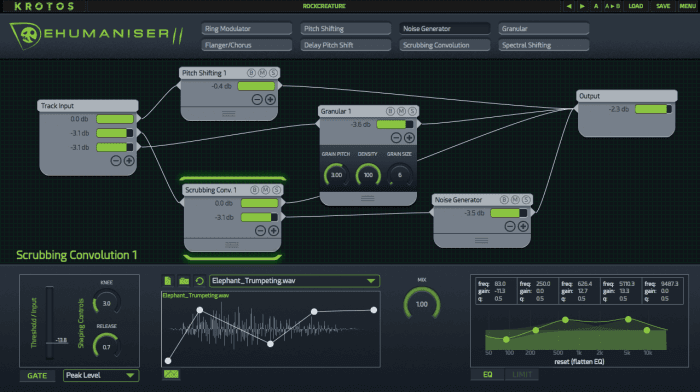 The modular, node-based processor eliminates the time and expense traditionally required in creature sound design by opening-up jam-packed full of presets and pre-analyzed sound libraries.
Utilising incoming live or pre-recorded signals, the software allows you to rapidly create seamlessly layered effects by using presets or dive right into customization by linking virtual patch cords to interactive effects modules. Dehumaniser 2 features proprietary effects like Scrubbing Convolution and Spectral Shifting that deliver dramatic results and offer totally new avenues for creative design.

With 10 essential modules, and over 100 impactful presets, renowned sound designers have used Dehumaniser to bring other-worldly characters to life in blockbusters like Avengers: Age of Ultron, The Jungle Book, Far Cry 4, and Doom. This versatile tool eliminates the difficulty of setting up complex processing chains, and allows designers to jump right into their creative work. Dehumaniser is an all-in-one solution that puts vital vocal design features at your fingertips, making it the ideal plugin for use in film, TV, video games, live performance, and more.
Available in VST, AU and AAX plugin formats, Dehumaniser 2 is on sale for $199.50 USD until November 2nd, 2020. During the promotion Dehumaniser Simple Monsters is also 50% off the regular price.
More information: Krotos