Harbinger Pro Audio has announced the introduction of the new MüV Series of portable PA systems.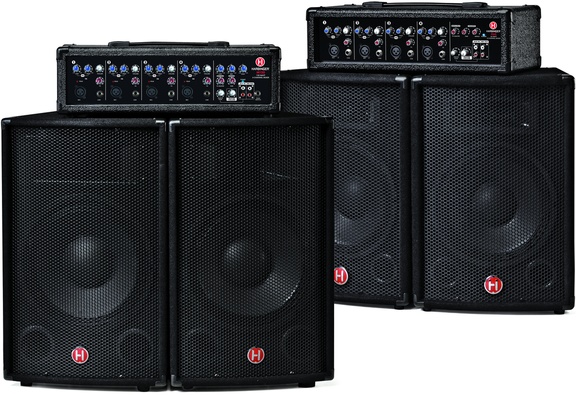 Harbinger MüV Series Portable PA systems are an easy-to-use, affordable solution for smaller performances, presentations, and rehearsals. Designed with small to mid-sized venues in mind, the Harbinger MüV systems deliver complete compact PA solutions for singer/songwriters, presenters, small theater productions, mobile DJs, instructors, and other casual performance applications.

The Harbinger M60 and M120 are full-featured systems including four-channel powered mixers with professional quality loudspeakers for natural sound and full-range musical performance. Both models offer four microphone/instrument inputs with individual volume controls, as well as an Aux input for connecting MP3 players for integrating music or backing tracks.

The MüV M60 PA system features a 60 Watt powered mixer with two 10-inch two-way loudspeaker cabinets. The larger M120 offers 120 Watts of power, with a pair of 12-inch two-way speakers with high frequency compression drivers. Both systems deliver crystal clear, full-range musical performance, with integrated two-band EQ and digital delay. The M120 also includes a three-band Master EQ and Clip LED. And all MüV systems are equipped with extra features including FX send and Record Out for added convenience and maximum versatility.

Each Harbinger MüV PA comes ready to rock, complete with all speaker cables for quick and easy setup. And every MüV speaker cabinet is designed with integrated 1-3/8 inch speaker stand mounts, giving you maximum versatility to adapt to any venue.

"For most musicians and performers, smaller and more intimate venues can be more of a challenge than larger halls, which typically have their own PA," observes Harbinger Product Manager Jim Norman. "We've designed the MüV Series for the kind of casual, small and mid-sized gigs that working musicians face every day. We've made it easy to set up, easy to use, great sounding, and affordable."
The new Harbiner MüV Series is available for purchase for $199 USD for the M60), and $299 USD for the M120.
More information: Harbinger Pro Audio / MüV Series