Harrison Consoles has announced availability of MPC Channel, an all-in-one signal processing suite for mixing and editing audio in post-production film.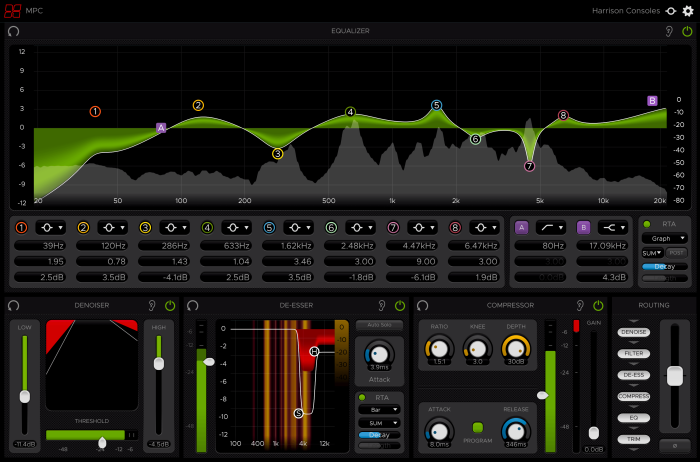 MPC Channel is equipped with six essential mixing tools that use the same powerful DSP found in Harrison's renowned MPC (Motion Picture Console) used in high end film studios around the world.
MPC Channel represents the latest Harrison digital signal processing platform ported directly from Harrison's MPC5 large-format digital film console DSP and Xtools.

Intended exclusively for large format film post production applications, this product was designed with, and for, our many OSCAR- and BAFTA-winning collaborators.

MPC Channel is an AAX / Pro Tools-compatible plugin that includes customized layouts for the Avid S6, S3, Dock, D-Command and D-Control surfaces with dedicated Pro Tools features such as EQ curve display and dynamics gain reduction meter.
MPC Channel features
Parametric 8-Band Equalizer with a wide range of RTA options.
Pair of multi-pole Filters with various selectable shapes.
2-Band De-Esser based on the X-Tool DSP found in Harrison MPC digital consoles.
2-Band Denoiser for cleaning up unwanted background noise.
Compressor with a variety of adjustable parameters and a selectable Program Dependent mode.
Routing, Trim & Polarity section for re-arranging the order of signal flow, toggling Polarity, and adjusting input/output Trim.
MPC Channel is available for purchase for $1,500 USD.
More information: Harrison Consoles