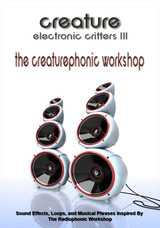 Haunted House Records has announced Electronic Critters 3: The Creaturephonic Workshop, the latest sound library in the Electronic Critters series.
The sounds in this library are inspired by the early work of the BBC Radiophonic Workshop and features raw sounds like field recordings, radio interferance, ultrasound and theramins reprocessed and chopped up to create electronic sounds that sound out of this world.

The Creaturephonic Workshop is ideal for Film and TV sound design aswell as all types of electronic music production.
Electronic Critters 3: The Creaturephonic Workshop features
All sounds are high quality 24bit 44khz wave files and this library contains over 4gig of material.
Ambient Textures — The ambient textures section contains 103 sound effects split into 22 different groups. These textures will be familiar in style to anyone who has used a previous Electronic Critters sound library.
Loops — This section contains 126 loops split over 3 different bpm ranges (100bpm, 125bpm, and 140bpm). The loops are rythmic and work well on their own or under drum tracks and can really lift your music productions and get people talking.
Musical Phrases and Sound Beds — This section contains smalll musical phrases and ambient sound beds that are perfect as a starting point for music in TV and Film. There are 140 sound samples split over 29 groups. Each phrase or sound bed comes as a full mix and seperate track submixes so you can use any part of the track. This offers you greater flexibility as you can pick and choose which parts of the mix you can use.
Source Material — This folder contains the source material used in the construction of this disc. We have included the source material as we hope you are inspired to create some sound effects yourself. There are 313 sounds included in this section split into the following sections:

Field Recordings
Outside Ambience, Household Objects, and a Thumb Piano
Radio Frequency Scanner Samples
Theramin Phrases
Ultrasound Doppler
Electronic Critters 3: The Creaturephonic Workshop is available for pre-order on DVD for £19.99 GBP plus postage (regular price £24.99 GBP). It will also be available as a digital download from Sounds/To/Sample shortly.
A collection of 11 samples from this release is available as a free download from the product page.
Visit Haunted House Records for more information and audio demos.