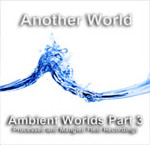 Haunted House Records has released Ambient Worlds 3: Another World, a collection of processed and mangled field recordings.
Alien rainscapes, lunar textures, inter-planetary vortexes, solar winds, Neptune thunderclouds and nightmares of the Gods in the latest – and darkest – instalment in Haunted House's Ambient Worlds series.

Stephen Haunts' label is as niche as you get: putting out a select number of releases each year that are eagerly lapped up by foley, game, cinema, soundtrack and dance producers.

In Another World, Stephen takes a journey to the dark side of the imagination, serving up 62 all-new evolving stereo soundscapes that can be used alone or mixed together for a near-infinite palette of sounds.

Source material in Another World includes field recordings of nature, which are then synthesised, downgraded and remodelled into other-worldy sounds.

Another World is the final part of the Ambient World collection.
Ambient Worlds 3: Another World features
All sounds supplied in 24bit 44Khz Wav files.
62 High quality processed field recordings.
Over 800meg of 24bit samples.
Ambient Worlds 3: Another World is available to purchase as a digital download from Sounds/To/Sample, priced at £19.99 GBP.
More information: Haunted House Records / Ambient Worlds 3: Another World