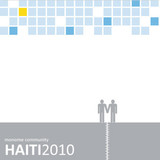 The monome Community has released HAITI2010, an album available to the public with 100% of the sale proceeds being donated to Médecins Sans Frontières (msf.org).
The monome user base is a collection of people from across the world (Pin drop map here: http://tinyurl.com/yh53lwf), brought together via the innovative, open source music production hardware that is the monome (monome.org), They pride themselves on a tight-knit, proactive, and helpful community (post.monome.org), where collaborations and projects are frequently happening, the outputs of which range from new software patches to share, to Creative Commons track and album collaborations.

When the community came up with the idea of a compilation album to generate charity donations in light of the terrible disaster in Haiti, einpuls started gathering tracks for the album and the monome community answered swiftly with more than 25 tracks being submitted in just a couple of days.

The community teamed up with Summer Rain Recordings (summerrainrecordings.net) to compile the compilation, with the end result being a 27 track album, each track contributed for free.

The minimum price for the compilation has been set to $1 with no upper limit. Every penny helps, so please donate what you can.
The 27-track HAITI2010 album is available as an immediate download in your choice of 320k mp3, FLAC, or just about any other format you could possibly desire.
More information: HAITI2010