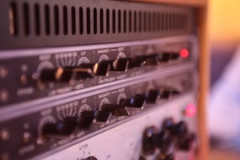 Henry Olonga has released a number of free presets for Q-clone, the hardware equalizer modeling effect by Waves.
Henry writes:
Happy new year everyone and to start the year on a good note I thought I would surprise you with six new q-clone packages. About 2400 odd audio snapshots in total. Enhance your investment with q-clone by adding these presets to your colour palette.

The first is my colour suite.I have sampled lots of stuff in my studio and a studio I visited to make these babies. There is some Crazy good stuff here. Most of this is application driven whereas the rest are just settings snapshots with the odd application. Stuff I didn't know q-clone could sample like short reverbs which adds a depth unlike anything I can describe. Check out the 'odd stuff' folder if you are into sound design.
The Q-clone presets (400MB unzipped) are available as a free download from Henry's blog.
More information: Henry Olonga / Q-clone Presets