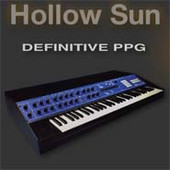 Hollow Sun has announced a $1 Yuletide Giveaway, a limited time offer for its Definitive PPG sample library.
Now that Waldorf have released the magnificent PPG Wave 3.00, it has been decided to discontinue the Hollow Sun 'Definitive PPG' library as it makes no sense to be in competition with 'the real thing', so to speak.

But before that happens, here's an opportunity to grab it for a measly $1! That's about 64p in real money or roughly €0.75!!

And in fairness, HS's PPG lib is quite old now as well but it IS a 'real' PPG Wave 2.2 with all its quirks and sonic foibles and covers most of the characteristic sounds from this classic digital/analogue synth hybrid from sweeping wavetables to glassy and mellow pads, from delicate chimes to razor sharp textures that can slice through butter plus chunky and solid basses, digital vocal pads, analogue leadlines and much more in 50 Kontakt 3.5 programs containing around almost 300MB of multi-sampled data, much of it stereo directly from the PPG's outputs.
This offer is valid until January 5, 2011, at which point the Definitive PPG library will be discontinued.
More information: Hollow Sun