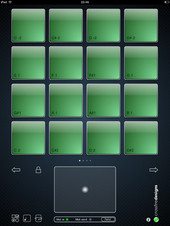 Crossfire Designs has released MidiPadz Lite, a free MIDI drumpad controller for Network MIDI and USB MIDI.
It offers 16 drum pads on four pages, an X/Y-pad and a gravity controller, which makes the whole iPad's rotation a controller.

MidiPadz is one of the first iOS programs that don't require any 3rd party software or proprietary hardware for MIDI connection! With Network MIDI, you can take your iPad on stage and trigger your music wirelessly!
MidiPadz Lite features
Supports USB MIDI over iPad Camera Adapter.
Supports Network MIDI over WiFi.
Touch sensitive drum pads (depends on vertical position and two-finger tap for full velocity, user-changeable).
Four pages with 16 drum pads each.
Drum pad notes adjustable (tap on pad note symbol on bottom left, after that drag finger on pad up/down to change its note).
One X/Y controller (big pad on bottom).
Gravity controller (rotational axis of the iPad; Tap on rotation symbol on bottom left to activate, MIDI send light blinks every time you change the iPad's rotation).
All controllers can change their MIDI controller number.
Rotational- and scroll-lock for drumpads (tap lock symbol).
MidiPadz Lite for iOS 4.2 is available as a free download from the iTunes App Store.
More information: Crossfire Designs