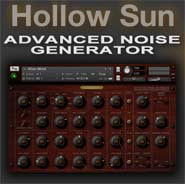 Hollow Sun has announced the Advanced Noise Generator, a new Music Lab Machine for Native Instruments Kontakt.
It features very long 44/24 white, pink and low frequency noise samples taken from a true analogue modular synth which pass through a multimode filter offering eight different filter types. This filter can be controlled by two LFOs (one with simultaneous multiple waveforms which can be mixed for complex control waveshapes) and an ADSR envelope and then onto an output section with separate LFOs for control of amplitude and panning. This passes to a distortion section with up to four different distortion units followed by a delay and a convolution reverb featuring custom impulses.

The Advanced Noise Generator is therefore capable of creating all manner of dense and undulating noisescapes as well as no end of noise sweeps and effects … and with the distortion units, they can stray into IDM territory.

But the Advanced Noise Generator has another trick up its sleeve – the 'Serendipity' button! Click on the Hollow Sun brass plaque at the top and have the A.N.G. create a new sound for you at random. It might not be immediately useful but could send you off in new, creative directions. It also comes with 40 'presets' which can be used as is or as the basis of your own creations.

It's quirky, odd, different, unique and typical of the MLMs and a fine adjunct to the rest of the series.
Advanced Noise Generator features
44.1kHz/24-bit.
Advanced Retro Synthesis Engine.
True analogue white, pink and low frequency noise.
Each sample 2 minutes long and seamlessly looped.
Multimode filter -2/4/6-pole LP, 2/4-pole BP, 1/2-pole HP.
Phase shifter filter.
2 x LFOs, one with simultaneous multiwaves.
Various distorion effects.
Delay and convolution reverb.
'Serendipity' function randomly creates new sounds.
40 presets.
The Advanced Noise Generator is available to purchase for £8 GBP.
More information: Hollow Sun / Advanced Noise Generator