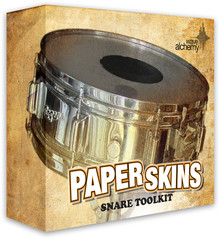 Wave Alchemy has announced the release of its Paperskin Snare Toolkit, a collection of 'filthy' snare drum samples and layering tools.
Paperskins serves up 211 individual snare drum sounds; each of these samples being conveniently provided in three distinctively different 'sound/shape' and tonal variations, perfect for layering and crafting new snare drums…

All sounds have been processed through a high-class, all analogue signal chain, with lots of extra vibe added through the use and abuse of an Akai S1000 sampler, often recorded to at a hot level and driven by ears rather than meters – this has imparted a unique sounding 'papery' sizzle to the sounds…hence the name "Paperskins"
Paperskins Snare Toolkit features
633 24-bit, 100% royalty free snare drum samples.

Slappers – 211 Punchy, tight and transient rich snare drum variations – uniquely processed and specifically tone-shaped to enhance the 'slap' of the sound.
Fluffers – 211 Loose, papery and powerful sounding snare drum variations – individually processed and specifically treated to enhance the 'body' of the sound.
Suckers – 211 Reversed snare drums which have been individually processed and envelope-shaped – great for layering either underneath or slightly before the Slappers and/or Fluffers to provide complexity or additional 'suck'.
The sample library is available to purchase for £14.95 GBP.
More information: Wave Alchemy / Paperskins Snare Toolkit