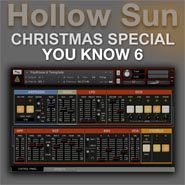 Hollow Sun has announced the release of You Know 6, a sound library for Kontakt featuring the sounds of the Juno-6 by Roland.
This year's seasonal offering is an homage to the fabulous 80s DCO polysynth – 'you know' the one I refer to and it's fairly obvious from the GUI!!!

But it comes with a few twists!

Firstly, it has a DETUNE control so that the waveforms can be detuned for a thicker sound that can rival the more serious two oscillator polysynths. It also has a multiwave LFO (compared with the original's triangle wave only), a 12/24dB/OCtave switch on the filter and perhaps, most importantly, has two ADSR envelopes, a vast improvement over the original's one envelope.

Not just that but we've sampled two banks of waveforms – one with the original's gorgeously crusty, analogue bucket brigade chorus in all its rich, stereo and swirly wondrousness but also the raw waveforms so that you have the best of both worlds. The chorused bank allows some truly massive sounds to be created, especially with the detune control.

It also comes with 40 presets to get you started which range from supremely lush strings and pads to chunky basses, organs and spikey arpeggios.
You Know 6 features
44k.1Hz / 24-bit.
An homage to the famous 80s polysynth.
Arpeggiator.
Waveform detune.
Two envelopes.
Multiwave LFO.
The You Know 6 is available to purchase for £2 GBP.
More information: Hollow Sun / You Know 6