Homegrown Sounds has released version 1.4 of its Cassetto cassette based synthesizer instrument for Native Instruments Kontakt.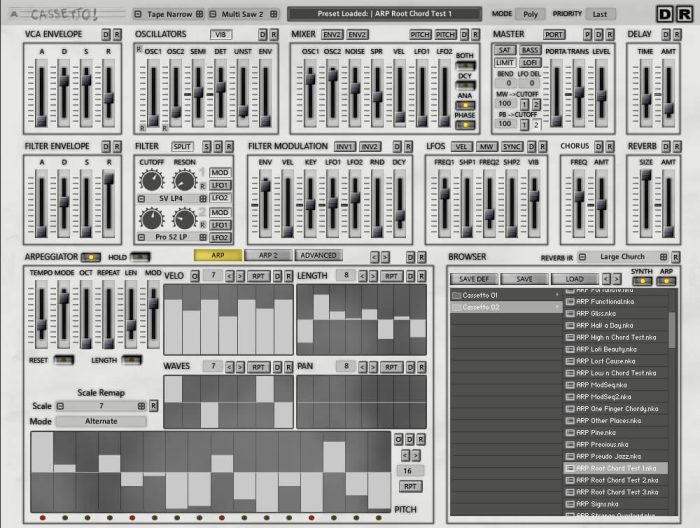 This update sees the introduction of a Microtonal System, Scales can be loaded via the inbuilt preset browser. There is also an online facility for converting Scala (*.scl) files to the Cassetto format. Over 300 scales are included covering a lot of territory.
Changes in Cassetto v1.4
Added Randomize Waves on Load Preset – An interesting alternative when scrolling through the Presets.
Replaced the loaded Wave displays with menus so that they can be selected via the menu as well as the slider and -+ buttons.
Added a Microtonal Engine that loads Microtonal presets through the existing browser.
Ability to intelligently map scales of less than 2 octaves to 12 note mappings so that they make more sense on a standard Keyboard.
Support for scales up to 88 notes in size.
Support for Scales that span multiple octaves in total range as well as the more common 1 octave interval scales.
Added an online facility to convert most Scala (.scl) Files to Cassetto format.
300+ Scales included.
Cassetto is available for just $14.99 USD in a group buy, which has been extended until December 1st, 2016. You will get 6 bonus products with a purchase during the group buy as well, with additional bonus items made available as more people join.
More information: Homegrown Sounds / Cassetto