MathAudio has announced the release of Guitar EQ, a new effect plugin for Windows and Mac.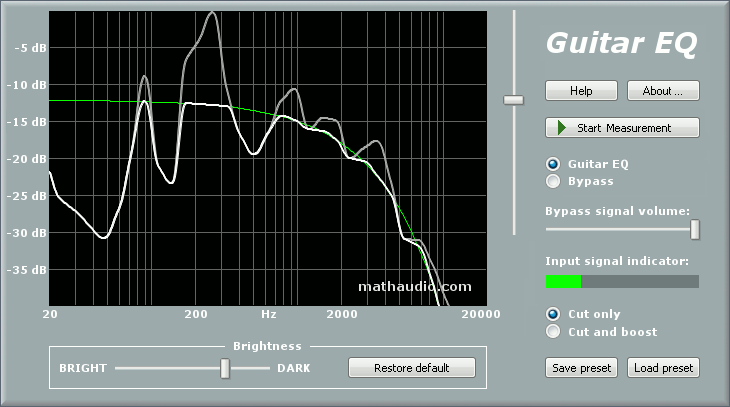 The body of classical and acoustic guitars is an acousto-mechanical resonator that amplifies sound generated by strings by means of multiple resonances. Ideally, these resonances should be uniformly distrubuted along the frequency range and have similar gains. In reality, however, some of these resonances usually have too large gains. Our experiments have shown that one or a few strong resonances can destroy the guitar sound because of so-called "masking effect". We've also found out that the digital correction of the largest guitar resonances can substantially improve the quality of the guitar recordings. MathAudio Guitar EQ plug-in helps you to detect and compensate for the unwanted guitar resonances.
Guitar EQ features
Helps to detect and compensate for the unwanted resonances in classical and acoustic guitars.
Improves quality of the microphone recordings of the guitar sound.
Works with microphones and piezo pickups.
Provides objective means for evaluation and comparison of classical and acoustic guitars.
Suitable for real-time applications.
Supports both "Cut only" and "Cut and boost" methods of correction.
Manually adjustable level of compensation allows one to reach the maximum transparency of the sound.
Supports full range of sample rates from 44,056 kHz up to 384 kHz. All sample rates are supported without resampling to avoid any possible loss in quality.
Applies 64-bit signal path throughout.
Guitar EQ for Windows and Mac (VST/AU) is available for purchase for $79.95 USD.