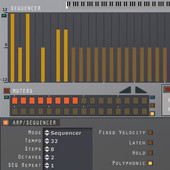 Homegrown Sounds has updated its Pulse Control and ARP virtual instrument plug-ins for Windows.
Changes in HG Pulse Control v1.2
Newly Developed Arp engine installed with Polyphonic Mode for chained Pulses (although it can be interesting with 1 Pulse as well!).
Scale Mapper, mainly for use with the Arp, each note can have a distinct scale to squash the sequence into.
Clock send now disabled by default, enabled via the send clock button in the master section.
Panic will now send on all 16 channels, just in case the plugin has been routed externally to a differing channel to the plugin channel.
Cross Modulation Oscillator Mode added to Oscillator 2.
Changes in ARP v1.2
Program Change Blocker – If the plugin received a program change in previous versions it would change the plugin program as expected, but would also pass through and change the synth connected to midi out. This is now disabled by default, but can be enabled if desired.
Muters Upgraded – Now the muters align along the bottom of the sequencer making it much easier in sequence mode to see which step is which.
Tie per Note Row Added – This allows tie-ing Notes together, which essentially prevents them from releasing for the tied step. Although ties are mostly used with monosynths to prevent the Envelopes from re-triggering, the ties are always linked to the oldest playing sequence and so can be used in polyphonic mode. This works in an interesting way because sequences can be syncopated, and so the notes tied can be at different locations in the sequences.
ARP lights fixed – Now the lights will stay lit as long as a note of that key is held, previously holding 2 C notes and releasing one would end the light prematurely.
Panic now sends to all 16 channels in case external channel routing is being used oppsed to the channel setting in the plugin.
Note 2 CC Converter – This allows converting the arpeggiator into a control change sequencer with selectable CC and the option to use the notes at the same time.
Set Scales to 1 button – At the top of the Scales column is a new button which will set all scales to whatever scale C has enabled.
New Range Slider – The range slider has been newly built to be more accurate and reliable note that if patches were using the old slider to set a range the range will need re-selecting. This is unfortunate but unavoidable.
Scale Remapper 4 new modes added – These are Lowest Note, Highest Note, First Note and Last Note. Whichever is selected, that note will determine the root note and scale used for all other notes. When it is released the next (whichever is chosen) note will determine the scale and root note.
More information: Homegrown Sounds