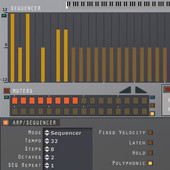 Homegrown Sounds has updated ARP, a VST instrument plug-in for Windows.
ARP is an advanced Polyphonic Arp and Note Sequencer with Scale Remapping for powerful sequencing possibilities. Sequences can be re-mapped based on the played note so for example a sequence can be forced to fit to the major scale. The idea behind this is to break away from the typical note sequencer where every key simply transposes the sequence, the ability to remap each note results in a much more creative sequence.
Changes in ARP VSTi v1.1
Bank (MSB & LSB) + Program Change section added.
Midi Clock added to sync external hardware.
Current Number of Midi Notes Display added.
Midi In Activity Light added.
Polyphony Limit increased.
OmniChorder bug – Notes could cut out if the scale of a new note contained an already playing one.
OmniChorder Bug – A very specific set of conditions could cause a crash when notes were held during a patch change.
ARP for Windows is available to purchase for $20 USD.
More information: Homegrown Sounds / ARP