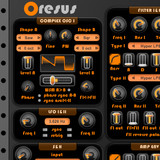 HyperSynth has released Oresus, a synthesizer with huge range of tonal possibilities and intuitive user interface.
It introduces WSM (wave shape modulation) and complex oscillator to produce new waveshapes from two raw sub oscillators.

Oresus features two filters with 12 modes, these filters are configurable as parallel and serial or even as a combination of both to achieve new filter types. A modulation matrix with 18 sources and 23 destinations provides an extensive choice for modulation purposes.
Oresus features
2 Complex oscillators
Oscillators special features (phase sync, hard sync, PWM, WSM)
2 Filters (10 classic types + Hyper LP8, Hyper LP6)
Filters special features (key track, separate pan and level, polarity switch, parallel and serial outputs)
3 Curve configurable envelopes for filter, Mod and amplitude
2 LFOs each with 4 simultaneous outputs
S&H with smooth function and selectable input
Modulation matrix with 414 possible paths
Trance gate
Pitch and mod wheel
Built in FXs (spread, drive, cross delay, ping pong delay, chorus)
Factory soundbank created by Frank "Xenox" Neumann
Oresus is available as a VST instrument plug-in for Windows PC, priced at $45 USD.
More information: HyperSynth / Oresus