HyperSynth has released version 1.1 of XEditor, a software editor for controlling the Xenophone analog mono-synthesizer.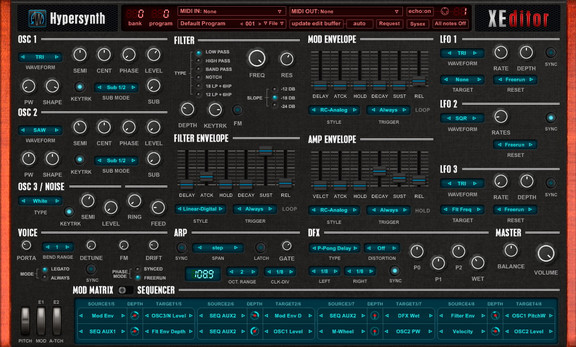 XEditor is a freeware editor for advanced controlling over the Xenophone synthesizer in your DAW. XEditor offers remote access to all synth engine parameters via MIDI messages (CC and NRPN).
Changes in XEditor v1.1
Added new types for oscillator waveform and distortion.
Added loop indicator for Amp envelope and fixed hold indicator enable point.
Now "update edit buffer" does not refresh the hardware display.
Rename command is changed to match the hardware command format.
LFO rate default value is set to 1Hz.
Fixed problem in loading semitone value.
Fixed aftertouch wheel malfunction.
Fixed oscillator key-track issue that did not transmit correct data.
XEditor for Windows is a free download.
More information: HyperSynth / XEditor