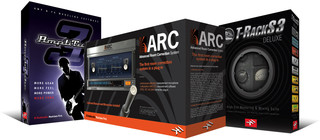 IK Multimedia has announced the release of updates for AmpliTube 3, T-RackS 3 and ARC System.
AmpliTube 3 has over 160 precisely modeled pieces of vintage and modern gear available in one package. AmpliTube 3 is the ultimate tone gear collection for the player/producer/engineer suffering from tone angst.

T-RackS 3 raises the bar in high-end DAW mastering and mixing, with a suite of 9 analog modeled and digital Dynamics/EQ processors, full metering suite, an audio quality that is unmatched in software, and scores of new and unique features.

ARC System combines a professional calibrated measurement microphone, standalone software that captures sound information and calculates proper room correction, and a multi-platform plug-in.
Changes in AmpliTube v3.0.2
Various fixes on MIDI control.
Fixed a problem when importing some presets from previous Powered By AmpliTube products.
Changes in T-RackS v3.1.2 (All Shells and Singles)
Improved Sample Rate handling in Audio Units.
Fixed possible crash on Standalone versions with certain file lengths.
Resolved audio clicks in Logic before playing audio regions.
Fixed bit depth clipping in Brickwall Limiter.
Updated compatibility with Melodyne Studio and Apple Waveburner.
Updated compatibility with ARC System version 1.2.1.
Changes in ARC System v1.2.1 (Native and TDM)
Improved Sample Rate handling in Audio Units.
Resolved a problem with the Audio Units validation of the Correction plug-in when no measures were available.
Updated compatibility with T-RackS 3 version 3.1.2.
More information: IK Multimedia