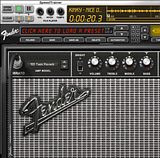 IK Multimedia has announced AmpliTube Fender, the first and only official guitar/bass Amp and FX software suite made by IK Multimedia in cooperation with legendary music icon Fender® Musical Instruments Corporation.
With a collection of 45 pieces of gear collected from the most sought after classic and modern Fender® amps (including the '65 Twin Reverb®, '57 Deluxe™, '59 Bassman® LTD, '64 Vibroverb® Custom, Super-Sonic™, Metalhead™ and many more), cabinets, stomp boxes and rack effects, AmpliTube Fender® sets a new standard for software amplifiers.

From guitar to bass, from Country to Blues and Rock, Punk to Metal, whatever style you play, AmpliTube Fender® is the only amp suite that gives you the world's most influential guitar and bass tones right on your desktop.
AmpliTube Fender features
Standalone and plug-in software for all platforms
12 of the most influential guitar amps of all time
12 original matching cabinets and 9 microphones
6 signature classic stomp effects and 6 rack effects
Incredible tonal flexibility: mix and match amps, cabinets, mics and more
Sound-certified and approved by the tone gurus at Fender®
5 separate modules: Tuner, configurable Stomp pedal board, Amp head, Cabinet+Mic and Rack Effects
2 fully configurable rigs with up to 32 simultaneous effects
Digital Tuner
Standalone and VST/AU/RTAS plug-in
Includes SpeedTrainer™ and RiffWorks™ T4 Recording Software
Can be expanded with any "Powered by AmpliTube" models using AmpliTube X-GEAR
Can be controlled live with StompIO™, StealthPedal™ and any traditional MIDI controller
Hundreds of presets included with more that can be downloaded online
Powered by AmpliTube® with exclusive DSM™ (Dynamic Saturation Modeling) and VRM™ (Volumetric Response Modeling)
AmpliTube Fender will be available by the end of February, in two versions: AmpliTube Fender (MSRP €169.99 / $229.99 ex. VAT) and AmpliTube Fender Studio (MSRP €109.99 / $139.99 ex. VAT).
Visit IK Multimedia for more information.