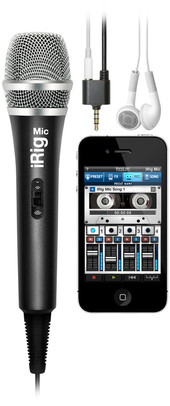 IK Multimedia has announced the iRig Mic, the first quality condenser handheld microphone for the iPhone®, iPod touch® and iPad®.
iRig Mic is ideal for the singer, vocalist and songwriter on the move, but also perfect for recording speeches, instruments, performances or any other sound sources in the studio, on stage or in the field. Musicians will be able to record and accurately reproduce acoustic instruments, amplified instruments or even band performances and concerts. Non-musicians will have an indispensable tool for recording high quality podcasts, speeches, lessons, interviews, video soundtracks or any other source that can be recorded on the go with their mobile device.
iRig Mic features
Ideal for all vocal applications from singing to speech.
Great for all types of sound recording or processing in music or any other audio application.
Quality condenser-electret unidirectional capsule.
Dual mini-jack connector allows real-time monitoring on headphones, speakers, mixers and PAs.
Rugged, durable metal housing.
Easy to set-up for any sound source.
Can be handheld or placed on a standard mic stand.
Compatible with any iPhone, iPod touch (with mic input) and iPad.
iRig Mic includes apps for singers, songwriters, and speakers, and can also be used with any other app that uses the microphone input of the iPhone, iPod Touch or iPad for audio input.
iRig Mic will be shipping in the first quarter of 2011 for $59.99 USD /€49.99 EUR (excluding taxes). Pre-orders are available from the IK Multimedia online store.
More information: IK Multimedia