IK Multimedia has announced iRig Pro I/O, an ultra-compact professional audio & MIDI interface.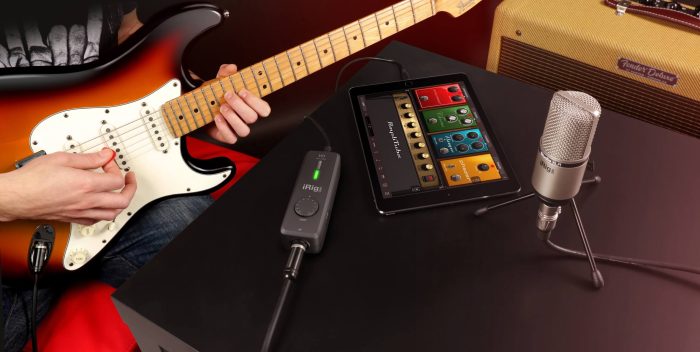 Recording on the go just got a whole lot better. IK Multimedia is proud to announce iRig Pro I/O, the successor to its highly popular iRig Pro, the personal mobile audio/MIDI interface for iPhone, iPad, Mac, PC and Android devices.

iRig Pro I/O is a simple "plug and play" interface that lets musicians hook up all of their gear – guitars, basses, studio mics, vocal mics, keyboards and more – to their mobile devices or computers and record 24-bit/96kHz pro-quality audio and MIDI tracks anywhere, any time. iRig Pro I/O features a high quality 1/8″ headphone/line out with level control for use with the latest Apple devices like the iPhone 7 to connect to headphones, mixers, or powered monitor speakers in an ultra-compact enclosure that fits in a pocket and can be carried anywhere.
iRig Pro I/O features
High definition 24-bit/96kHz audio plus MIDI interface for iPhone, iPad, Mac, PC and Android devices.
Connects to everything, yet easily fits in your laptop bag, gig bag or pocket.
Neutrik™ combo input for guitar, microphone or other instruments with a professional quality preamp, phantom power and gain control.
iPhone 7 ready with integrated headphone output with volume control.
Powered via USB bus, two AA batteries or the optional 5.4V DC PSU (PSU simultaneously charges iOS device).
Detachable Lightning and USB cables included for connection to iPhone, iPad, Mac and PC (MFi certified).
Comes with over $/€550 worth of full version Software & Apps.
iRig Pro I/O will be available in April, 2017, priced at 149.99 EUR/USD (excl. taxes).
IK Multimedia has also announced that its iRig Acoustic Stage digital microphone system for acoustic guitar is now available.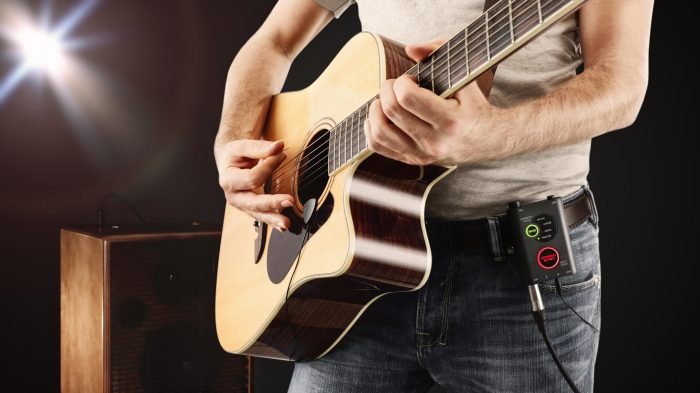 IK Multimedia is proud to announce iRig Acoustic Stage – the first advanced microphone, preamp and digital processor system that provides an exceptional true acoustic tone, anywhere. iRig Acoustic Stage combines an advanced MEMS microphone that clips on to the sound hole of an acoustic instrument with a preamp and DSP unit that captures all the tone, vibe and "air" of the instrument when playing live or recording in home and project studios.

The synergy between its components and the advanced signal processing makes iRig Acoustic Stage a revolutionary solution for accurately reproducing – and improving – the sound of all types of acoustic guitars and other instruments, in any situation, with studio-grade performance, advanced features, ease of installation and a convenience never seen before in any competing product.
iRig Acoustic Stage features
Advanced MEMS microphone clips on to sound hole.
Preamp/DSP unit.
Dramatically improves your live acoustic sound.
1/4″ AUX input with volume for piezo, magnetic pickups or other onboard electronics.
1/4″ Output with level control for amplifier or PA system.
USB audio out for recording on a computer or mobile device.
Cancel Feedback with multiple frequency feedback cancelling.
6 tone presets.
Personal instrument calibration.
Works on any acoustic, acoustic electric or ukulele with round sound hole.
Phase switch for optimizing dual source sound.
iRig Acoustic Stage is available for purchase for 99.99 EUR/USD (excl. taxes).
More information: IK Multimedia