IK Multimedia has announced iRing, the first motion-tracking controller for iPhone, iPad and iPod touch music apps and more.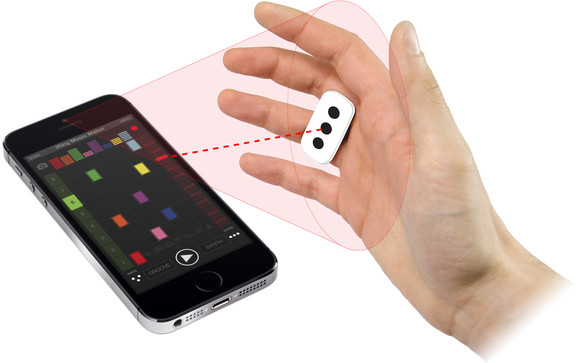 Now musicians, gamers, and more can trigger sounds and control effects and other parameters of their favorite apps, in real time, using hand position, freeing them from touching the screen!

iRing utilizes a wearable ring with identifiable markers, the mobile device's front-facing camera, and advanced computer vision with highly-optimized recognition algorithms built-in to an app, to determine the precise positioning of the ring markers. The device camera picks up the positioning of the ring patterns and the apps convert that information into music commands for dedicated app or MIDI information, which any compatible music app can read. This means that a user can now operate up to six controllable music parameters in their preferred music apps with one or two hands gestures.

iRing includes two identical double-sided ring controllers, plus two free apps for music applications, which target everyone from music lovers to DJs to seasoned musicians: iRing Music Maker and iRing FX/Controller.
iRing features
Ring controller, in tandem with either of two included apps featuring advanced motion-tracking technology, allows remote control of iOS app and app parameters using hand gestures.
Great for musicians and non-musicians alike.
Includes two identical, two-pattern reversible rings, allowing for numerous control combinations and the control up to 6 effect parameters simultaneously with two hands.
Rings are unique looking, light, comfortable and provide a universal fit.
Included iRing Music Maker app allows novices to make music using hand gestures.
Included iRing FX/Controller app lets musicians and DJs create custom MIDI control setups, plus add and control audio effects when used together with other music apps via Inter-App Audio or Audiobus.
iRing will cost $24.99 USD/19.99 EUR (exc. taxes), and will be available in Q1 2014 in three colors (white, green and silver). Pre-orders are already available on the IK Multimedia online store and selected stores. iRing FX/Controller and iRing Music Maker apps will be available as free downloads from the App Store.
More information: IK Multimedia