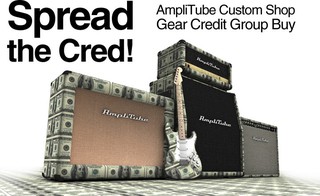 IK Multimedia has launched its AmpliTube Custom Shop Group Buy, offering AmpliTube Custom Shop users the chance to get additional credits with their purchase.
How would you like it if you get double what you pay for? Even triple! That's exactly what's going on this month on AmpliTube Custom Shop – a virtual shop built-in AmpliTube that sells amps, cabs, effects, and rack processor models—so you can create your own rig, a piece at a time, based on your needs and finances.

With this current economy, finances have been tough all around but you can still build your dream rig without breaking the bank with IK's Spread the Cred Group Buy. For the month of October, when you buy any AmpliTube Gear Credit Pack, you'll get another one for FREE. Let me break it down to you, to purchase any gear inside AmpliTube Custom Shop, you must first buy Gear Credit Packs (20 credits or more at a time). Once you paid for a pack, then IK rewards you with another Gear Credit Pack of the same value automatically!

To make it more interesting there's the addition of a Group Buy. When 1,000 users participate, everyone who has purchased a Gear Credit Pack in the month of October gets ANOTHER Gear Credit Pack. Regularly check the Group Buy meter and see how close you are to having 3 Gear Credit Packs for the price of 1.

AmpliTube Custom Shop offers you the ultimate "have it, when you want it" shopping experience. Day or night, you have the access to every piece of gear from all AmpliTube collections, including the gear of AmpliTube Jimi Hendrix™, AmpliTube Slash, AmpliTube 3, AmpliTube Fender™, AmpliTube Metal and Ampeg® SVX; plus you'll find additional pieces of gear from the world's top manufacturers — Fender®, Ampeg®, Orange®, Soldano®, T-Rex®, Seymour Duncan®, Groove Tubes® and more.
The offer ends October 31st, 2012.
More information: IK Multimedia