IK Multimedia has announced the launch of its 2018 T-RackS Group Buy, offering you the chance to purchase and register any T-RackS processor and/or Lurssen Mastering Console and get one more of equal or lesser value FREE.
For every 200 people that join the group buy, another free T-RackS processor is added!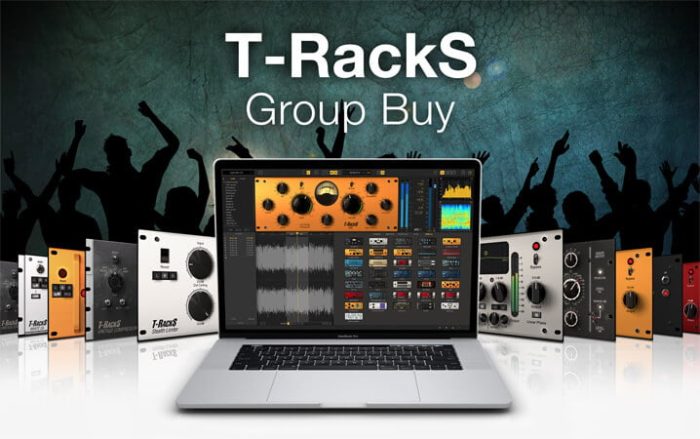 Yes, you read that right! Buy 1 and get 1 free, plus a chance to get more. Our new T-RackS Group Buy promotion gives you an easy way to save a buck while you load up on great sounding studio processors from the T-RackS Custom Shop. Any time you purchase and register a T-RackS processor and/or Lurssen Mastering Console, you get another processor of equal or lesser value for free.

And it gets even better. Since this is a Group Buy, you can get even more free gear throughout the month. Each time anyone purchases and registers a T-RackS processor during the time of the promotion, the Group Buy Counter increases by 1. Once the counter hits 200, another T-RackS processor* of equal or lesser value will be available in your User Area for FREE. The same thing will happen when the counter hits 400, 800, and it'll happen again when there are 1,000 participants. That means you can get up to a total of 6 high-quality T-RackS processors for the price of one!

That's a pretty good deal when you consider the depth, selection and quality available. Everything in the T-RackS Custom Shop qualifies, so go wild!
The group buy runs until August 31st, 2018.
IK Multimedia has also launched a sale on its Modo Bass physically modeled electric bass virtual instrument for Windows and Mac.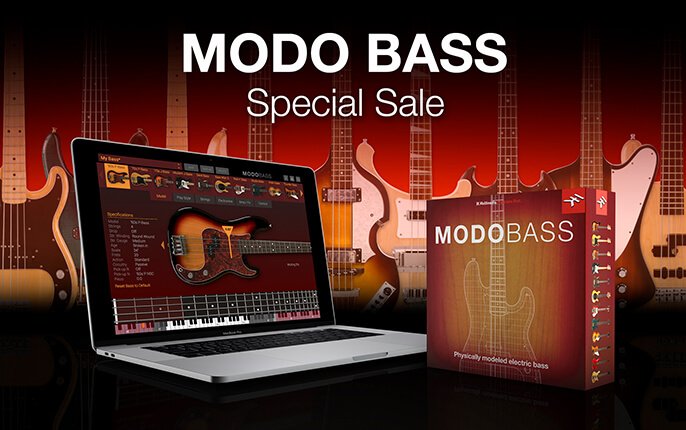 MODO BASS is a customizable physically modeled virtual bass instrument that recreates the sound of the electric bass and how it's played in real time – from all of the physical instrument components, the human technique of how the instrument is played, to the entire sound signal chain with effects and amplifiers.

MODO BASS contains a collection of 14 physically modeled iconic electric basses that span the history of bass sound in recorded music – more bass models than available in most other virtual instruments. Every detail of each bass has been meticulously analyzed and modeled to capture their true sonic character. But the sounds available with MODO BASS extend far beyond the 14 modeled basses — with the available customization features, users can craft virtually every electric bass sound imaginable. MODO BASS is able to produce an unmatched and unlimited palette of bass sounds because everything can be customized.

MODO BASS also comes with 7 bass stomp boxes and two classic bass amplifiers derived from our flagship software AmpliTube. You'll have full control over the signal path with a configurable 4-slot pedalboard and send that signal to a classic all-tube amplifier and 1×15 cab or the powerhouse solid-state model with a 4×10 cab.
Through September 4th, 2018 you can get Modo Bass for only 179.99 USD/EUR (regular 299 USD/EUR). Eligible crossgrade users can save too and get the crossgrade version for only 129.99 USD/EUR during this special promotion.
More information: IK Multimedia