IK Multimedia has announced Modo Bass, the first physically modeled electric bass virtual instrument for Windows and Mac.
Modo Bass brings a completely new level of realism and playability to the world of virtual bass instruments.
MODO BASS is a completely customisable physically modelled virtual bass that recreates the electric bass and how it's played – from the physical instrument and everything that makes it sound the way it does, to the human technique of how the instrument is played and its sonic performance, to the entire sound signal chain – no detail is left out.

This pioneering approach to virtual instrument technology recreates the dynamic interaction between the player, the bass, effects chain and amplifier that until now has never been realized nor recreated with traditional virtual instruments. This intense evaluation and modelling process gives players and producers access to a limitless universe of bass sound, an unmatched level of playability and the most realistic, lifelike sounding dynamic performance. No other bass virtual instrument can even come close to offering what MODO BASS provides.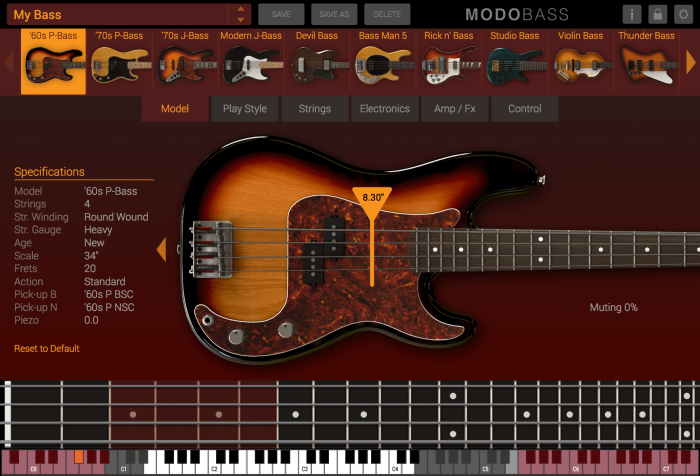 Modo Bass features
The first physically modeled electric bass virtual instrument.
Groundbreaking real-time modal synthesis technology — no samples used to create sound.
Recreate virtually every electric bass sound imaginable.
12 iconic bass models that span the history of recorded electric bass.
Models the entire act of playing an electric bass – player, instrument, FX & amp.
Ultra-small memory footprint.
Choose playing style — pluck, slap and pick.
Freely move the playing hand for realistic performance.
Customize string force, fingers used, pick thickness & technique.
Customize string number, scale, tuning, gauge, construction, action, age.
20 faithfully recreated, interchangeable iconic bass pickups with volume.
Choose active or passive electronics with parametric EQ.
Under-bridge piezo pickup with blend.
7 bass stomp box effects configurable in 4-slot chain.
2 iconic bass amps – Solid State and Tube derived from AmpliTube.
FX and amp global bypass for routing.
Optimized resizable interface.
Works as a 64-bit plug-in or standalone instrument for Mac/PC.
Full MIDI control with MIDI learn, keyswitches.
Full DAW automation control support.
Modo Bass for Windows and Mac (VST/AU/AAX) will be available in November, 2016, priced at 299.99 EUR/USD. Owners of an IK Multimedia software title with a value of 99 EUR/USD can crossgrade for 199.99 EUR/USD.
You can preorder Modo Bass today from the IK Online store at the introductory price of 149.99 EUR/USD. All prices ex. taxes.
More information: IK Multimedia