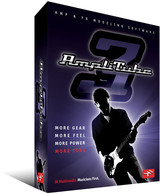 IK Multimedia is now shipping AmpliTube 3, a massive upgrade of the guitar and bass tone gear-modeling software for Windows and Mac.
There's a new king in tone, and its name is AmpliTube 3. A massive upgrade of the leading guitar and bass tone gear modeling software, AmpliTube 3 raises the industry standard of sound variety, realism and creative power. If your recording or playing "rig" is lacking in that rich, lush expressive analog warmth, then you need to check it out. With over 160 precisely modeled pieces of vintage and modern gear available in one package, AmpliTube 3 is the ultimate tone gear collection for the player/producer/engineer suffering from tone angst.
New in AmpliTube 3
Now includes over 160 models of vintage and modern gear
30 new vintage gear models and creative effects and 70 "re-mastered" gear models from AmpliTube Metal and AmpliTube Jimi Hendrix™
51 Stompbox effects, 31 Amps, 46 Cabinets, 15 Studio Mics and 17 Rack effects
New cabinet/room module with double freely movable mics
Incredible new rotary speaker simulation with VRM™
New Stomp & Rack FX "drag & drop" configuration
Now includes both mono and full stereo signal paths
New advanced preset organization and management
New "MIDI learn" feature for compatibility with any controller
New 4 track audio recorder/player with SpeedTrainer in standalone
New "eco-mid-hi" quality modes
Improved overall performance
New built-in expandability
AmpliTube 3 is now available to purchase for PC and Mac (VST/AU/RTAS):
AmpliTube 3 $349.99/269.99 EUR.
AmpliTube 3 Crossgrade (available to any IK registered user) $269.99/199.99 EUR.
AmpliTube 3 Upgrade (available to all previous AmpliTube 2, AmpliTube Metal, AmpliTube Jimi Hendrix™, AmpliTube Fender™ or Ampeg® SVX™ registered users) $199.99/149.99 EUR.
AmpliTube 3 Pedal (bundled with StealthPedal USB/MIDI controller and audio interface) $399.99/299.99 EUR.
More information: IK Multimedia