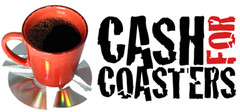 ILIO has announced "Cash for Coasters", a discount program inspired by the US government's recent "Cash for Clunkers" program.
Any customer may send in a picture or photocopy of an old sample CD or CD-ROM in exchange for a 20% discount on a future ILIO purchase.

"We thought this would be a fun way to reflect the overall spirit of economic and creative renewal, especially for us as musicians," remarks ILIO's Sales Manager, Brad Strickland. "It's a great way for musicians to 'trade-up' to some new sounds."

The "Cash for Coasters" 20% discount runs throughout the month of September and applies to any direct phone-order purchases from an ILIO customer representative.
More information: ILIO