ILIO has announced the release of The Fame Series: Modern Pop, the second patch library collaboration with U.K. based producer Reverb Machine for Spectrasonics' flagship synthesizer Omnisphere 2.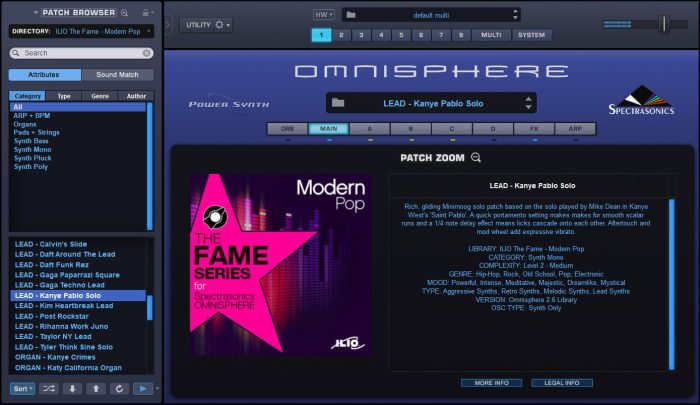 Modern Pop focuses on current synth sounds used in popular music from the 90s to today. Referencing songs from Billie Eilish to Kanye West, Tyler, the Creator, The Weeknd, Frank Ocean and Lady Gaga, this collection is no stranger to the spotlight. These patches serve as great starting points for new, organic compositions. And since they are replicated from famous songs, they'll create magic in your track with very little fuss.
Reverb Machine is the perfect sound designer for the job. The work of Dan Carr, Reverb Machine is most notably known for accurate replications of synthesizer tones, track-by-track deconstructions of celebrated songs, and programming walkthroughs.
"One of my favourite features (in Omnisphere) is the DSP wavetables based on classic synthesizers, allowing us to use the same waveforms as the original hardware for many patches," said Dan Carr of Reverb Machine. "This, along with the powerful effects section, resulted in patches that sound almost identical to the originals, allowing for faithful covers or quick inspiration when composing."

On working with Reverb Machine, ILIO's Michael (MIDIhead) Babbitt stated, "I've worked with a lot of patch designers who strive to recreate original tones used in hit recordings, but none of them match Dan Carr's ability to nail it. Dan has a gift of being able to hear a sound and know which voicings were used in it. Then, take that sonic imprint and bring it to life in a completely different synth, like Omnisphere. Genius."
While the sounds of Modern Pop may have gold record status, and are very recognizable in their original context, they shine in a whole new light when called into service in your original music. These sounds infuse tracks with the sheen and polish of professional, modern sound design.
The Fame: Modern Pop is available for $35 USD.
More information: ILIO