Imaginando has announced the release of the K7D Tape Delay, a powerful and affordable vintage tape delay effect plugin for desktop and iOS.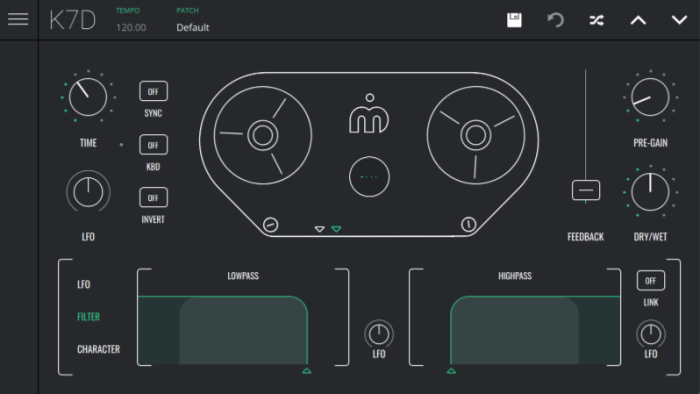 K7D recreates the spirit of analog by simulating the tiny deviations and subtle nuances of old skool tape delay and giving them a modern twist to produce an authentic sound infused with its own character and personality.
To give K7D it's distinctive analog flavour, we studied and analysed the tiny details of what makes classic hardware delays great, and painstakingly recreated every subtle nuance for a fantastically authentic sound. K7D's combination of features makes it a versatile effects plugin, capable of much more than just standard tape delay.

K7D mixes great quality sound with a great set of controls, for a truly unique experience with distinctive results. From vintage pre-amp/pre-gain saturation, to the ability to tune the delay with MIDI pitch information, everything is easy to access via its stylish, intuitive display. Spend less time search for parametres and more time designing your sound.
K7D features
1ms to 1 sec. dual-playhead, analog-modeled delay with noise, tape distortion and mechanical vibration models.
Input with pre-amp saturation and optimized gain staging and saturation algorithms for very musical results.
Normal and Ping Pong modes.
Delay time spread between heads and stereo width control.
High pass and Low pass filter on feedback path.
Powerful LFO bipolar time modulation with multiple waveforms (sine, triangular, saw, square, sample and hold and filtered sample and hold) and possibility of inverted LFO phase on second play head (for added stereo imaging).
Delay time syncable with BPM and possibility of delay time modulation via incoming midi notes.
Oscilloscope visualisation of audio waveform and LFO waveform.
The KD7 Tape Delay for desktop (VST/AU/AAX) is available at an early-bird discounted price of 19.50 EUR until May 19th (50% off regular). The iOS version is available from the App Store for 3.50 EUR.
More information: Imaginando