Impact Soundworks has announced the release of the Shreddage 3 Hydra virtual instrument, an 8-string guitar that offers everything from crystal-clear clean tones to screaming leads and brutal heavy chugs.
Hydra sports two Fishman Fluence Tosin Abasi Signature pickups, giving you two extremely clear, distinct, and low-noise tone options to build on. 55 production-ready snapshots made with the included Console FX rack cover a huge range of clean and high-gain styles.
Created with 40,000+ samples, Hydra features exhaustive sampling of all useful articulations, dynamics, RR variations, and layers.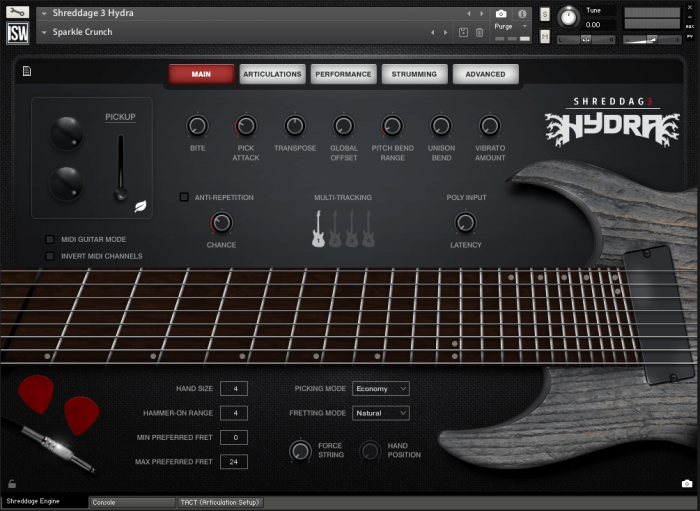 Shreddage 3 Hydra is the culmination of everything we at Impact Soundworks have learned in 10 years of creating virtual guitars. This is our vision of what a no-compromises, maximum-quality 8-string guitar should be. Our internal bar of quality was so high that we recorded the entire sample set three times in our pursuit of the perfect performances and tone. Now it's finally done, and you can enjoy the ultimate rock and metal virtual guitar in your music.

We selected an "Iron Label" RGIF8 drop-tuned to low E for our guitar, and equipped it with Fishman Fluence Tosin Abasi Signature pickups. These pickups put Shreddage 3 Hydra in its own class, even compared to our other instruments. They not only have distinct and useful tones (neck & bridge positions), but their clarity and low noise floor is unmatched. Some open-string sustain notes ring out for over 40 seconds!
Shreddage 3 Hydra features
Over 40,000 24-bit samples.
Two pickup positions (neck/bridge).
Sustains, palm mutes, staccatos (+ powerchord versions of all three).
Hammer-on/pull-off and portamento/slide legato (+ powerchord slides).
Harmonics, pinch harmonics, tremolo, tapping.
Chokes, rakes, FX sounds, 3 types of release noises.
3x dynamic sustains, 2x up/2x down strokes.
Up to 5x palm mute layers, 4x up/4x down strokes.
55 production-ready presets.
Effortlessly change your sound with easy tone + noise settings.
Change playing style with multiple 'virtual guitarist' algorithms.
Get more realistic chords/strums with Strumming Mode and Poly Input.
Fit S3 to your workflow with total control over articulation mapping.
Get killer tones out of the box with the Console FX rack & pedalboard.
Perfect your performances with dozens of tweaking controls.
Shreddage 3 Hydra is available now for $149 USD and runs in the free Kontakt Player. If you own any other S3 guitar you'll get an instant $20 USD discount in your Deals Area at the Impact Soundworks website.
More information: Impact Soundworks