Impact Soundworks has announced the launch of its new Shreddage 3 Stratus, a virtual electric guitar instrument featuring a brand-new Kontakt Player engine drawing from over 5 years of guitar sampling experience and user feedback.
The library offers highly detailed samples and realistic performance playback, a fully-modular mixer, FX rack and pedalboard, and extensive editing controls.
Shreddage 3 is a new family of electric guitar and bass sample libraries that succeeds Impact Soundworks' massively popular Shreddage 2 series of virtual guitars. Beginning with Shreddage 3 Stratus, all instruments under this new brand will include the same realistic performance behavior, editing controls, modular mixer and FX rack, and other key features.
"We've been listening to our customers for over five years since the original Shreddage 2 launch. With Shreddage 3, we're delivering on everything we wanted to improve, and that those customers have been asking for," explained library producer Andrew Aversa.

"The playback is more realistic than before. Articulations are now totally customizable. There's a new Strumming mode. And finally, we have a killer selection of built-in effects, amps, pedals, and cabinets!"
Shreddage 3 Stratus spotlights an American classic guitar sound with three distinct pickups and all key playing techniques: sustains, palm mutes, powerchords, tremolo, hammer-on & pull-off, harmonics, rakes, chokes, slides, and more. The versatile clean tone can be processed using the new built-in Console, which includes 30 unique effects modules and 30+ new cabinet IRs, or run through the user's external amp/cab plugins.
Ideal for both lead and rhythm playing, the instrument has multiple algorithms for MIDI playback covering different playing and voicing styles. This allows users to easily change how a riff or phrase sounds with just a single click. Custom chord strumming is also now available, adding the ability to write completely custom parts with any rhythm or chord imaginable.
Future releases in the Shreddage 3 family will include both new instruments such as an 8-string guitar ideal for modern metal, as well as previous Impact Soundworks releases such as Shreddage 2, Archtop, and Shreddage Bass 2 upgraded to the new engine & interface. Previous customers will receive discounted upgrades and crossgrades to Shreddage 3​ products.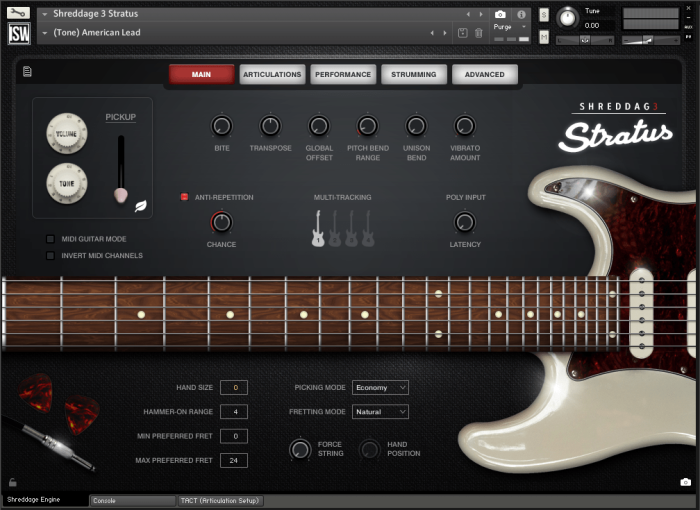 Shreddage 3 Stratus features
Four distinct voicing algorithms, allowing users to change the virtual 'playing style' with a click.
A new Strumming Mode, offering the ability to write any strummed rhythm with any chord.
Full NKS support for Native Instruments Komplete Kontrol products.
TACT 2.0: total control over how all articulations are triggered and mapped.
Custom blending between any or all of the three pickups.
"Console", a new modular mixer and FX rack with 30 effects, pedals, and amps, plus over 30 custom cabinet IRs recorded just for Shreddage 3.
Shreddage 3 Stratus is available now as a digital download for $149 USD including guitar and license.
More information: Impact Soundworks