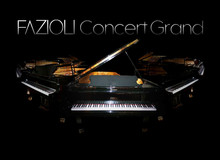 Imperfect Samples has released Fazioli Ebony Concert Grand, the world's largest sampled grand piano instrument.
Commanding a powerful and magnificent sound, this imposing hand-made Fazioli ten foot Grand Piano was created by the makers of world's most expensive grand pianos, and is considered by many to be the Elite of all grands.

Finally, an epic grand piano has been imperfectly sampled with warmth, without sterility. Most grand piano libraries tend towards having a sterile sound. The Fazioli Concert Grand offers an imperfectly sampled epic sound, with a raw warm, and rich tone not heard in other commercial grand piano sample libraries. The sound of this piano is deep, full, and epic, with real performance elements that can't be simulated using synthesis or modelling. The Fazioli Ebony Concert Grand is desirable for situations where you want the grand, expensive sound of a real grand piano.
Fazioli Ebony Concert Grand features
Contains over 70,000 samples in up to a record-breaking 127 layers.
Includes true staccato, release samples, direct picked strings, perfect and imperfect instruments, piano effects, muted keys, unmuted keys, piano body wood knocks, seat and lid sounds, and many more.
Painstakingly recorded imperfectly, as with all Imperfect Samples' libraries, the emphasis has been placed on achieving a hyper-real and convincing sampled instrument, with performance sounds. Classic "perfectly" sampled instruments have also been recorded, with all muted keys and perfect tuning.
Provided in 24-bit audio fidelity with a dry mic perspective, wet room perspective, player, close-mic'd, and internal perspective.
The Fazioli Concert Grand is available to purchase in 4 versions in EXS24 and Kontakt format (NOT for Kontakt Player):
Basic

(£39.99 GBP) – 8 layers with release samples.

Pro

(£89.98 GBP) – 12 layers of perspective 1, and an extra mic perspective with 8 layers.

Complete

(£119.97 GBP) – Up to 14 layers and 3 mic perspectives gives the Fazioli Ebony Concert Grand (complete) added versatility and dynamics.

Extreme

(£299.96 GBP pre-order 30th Oct. – regular £349.99 GBP) – The World's Largest sampled grand piano, with up to 127 layers, 5 mic perspectives, with perfect and imperfect instruments (provided on a portable Hard Disk).
More information: Imperfect Samples / Fazioli Ebony Concert Grand