Inspired Acoustics has released Palace of Arts Budapest (PAB) Pipe Organ Samples Professional Edition, a fully playable, freely configurable, intuitively manageable and MIDI-controllable virtual pipe organ, delivering the authentic sound of the 92-stop Pécsi-Mühleisen pipe organ of the Béla Bartók National Concert Hall of the Palace of Arts, Budapest, Hungary, to your computer.
Designed for operation within Hauptwerk™ Software, on both PC and Macintosh computers, Palace of Arts Budapest Pipe Organ Samples sets a new standard in virtual pipe organs used by leading organists, professional musicians, professors and tutors, educational, worship and culture institutions, recording professionals and enthusiasts.

Despite its immense size and capabilities, it is a pipe organ you can play and take with you wherever you go, offering unprecedented flexibility and sound quality never heard before in a virtual instrument.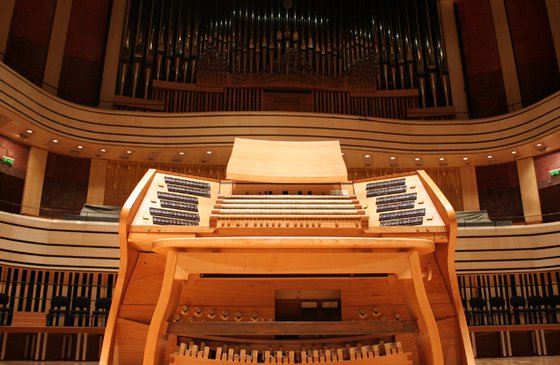 PAB Professional Edition features
The organ

the 2006 Pécsi-Mühleisen pipe organ of the Béla Bartók National Concert Hall, Palace of Arts – Budapest, Hungary; entirely virtualized
92 stops, 5 manuals (with 61 keys) and pedal (with 32 keys)
2 sweller pedals, 2 tremulants (tremolos), 61-stage programmable crescendo with different independent program slots
2 consoles (electrical Stage and mechanical Upper)
Equal tuning at concert pitch (a=442 Hz)
a symphonic organ to perform any piece of the entire pipe organ and symphonic literature without any compromise

The recording

High Definition Sampling (HDS) — all stops were sampled chromatically at 192 kHz / 24-bit
Advanced Pipe Organ Measurements (APM)
Synchronized Sampling Technology (SST)

The sample set

48 kHz / 24-bit format, 2-channel stereo samples
Natural sound image — the samples contain all spatial information as they are heard
12-second notes sampled, multiple loops per sample
2 independent swellboxes
2 tremulants
Optional organ engine sounds and noises
'Semi-dry' sample set with multiple release samples for providing natural concert hall reverberation and tracker action sound
Programmable crescendo wheel with enable/disable option
Ability to disable reeds, mixtures or couplers from all Crescendo wheel programs
Touchscreen-optimized for 4:3 displays of 1280×1024 native resolution

The User Manual

contains a detailed guide to pipe organs, its mechanism and sound
provides you insight to the 2006 Pécsi-Mühleisen pipe organ
guides you to the Palace of Arts – Budapest and the Béla Bartók National Concert Hall
gives explanations of all stops of the organ
provides information on more than 80 different historical tunings
contains a Guide to Room Acoustics focusing on pipe organs written exclusively for PAB Pipe Organ Samples
and more

Shipping

PAB ships on Inspired Acoustics USB thumb drives (pen drives) for a faster and convenient installation
PAB Pipe Organ Samples is published in five different editions: the Small, Essential and Medium Edition, featuring a selection of stops and features, the Professional Edition with all stops, and the exclusive Extended Edition with unique features yet to be unveiled. The Professional Edition is available now, all other editions will be released in 2009. Professional Edition users have the benefit of optional upgrade to the limited-number Extended Edition.
Check the shop for details on pricing. A group buy is currently active for the Professional Edition.
Visit Inspired Acoustics for more information and audio demos.