Irijule has announced the release of an updated version of the TheoryBoard music theory MIDI controller through Kickstarter.
Just launched and already funded on Kickstarter (raising over $100k in the first 2 days), the TheoryBoard Thy333 aims to be a game-changer for the music production scene.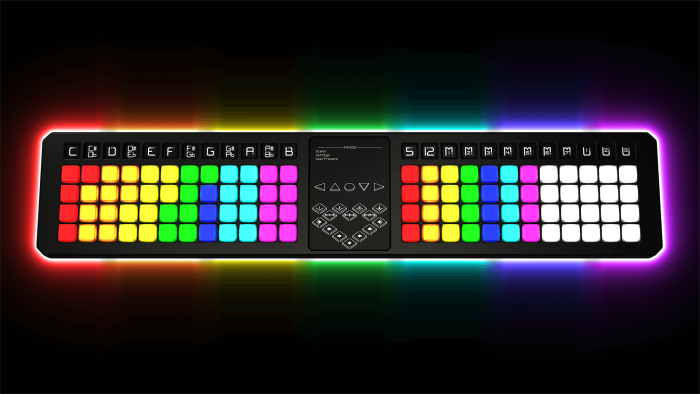 After the original prototype launched on Kickstarter back in 2017 (raising $244k), Irijule has been putting some serious work into developing the technology into something truly revolutionary and market ready.
Irijule's Co-founder and CEO Evan Swanson explained, "The idea started pretty simple. I wanted the ability to pick any scale and to have access to every note and chord within it. As we continued to develop the product it grew into something more powerful than I had originally envisioned".
The TheoryBoard lets you play in key without knowing anything about music theory. It features an intuitive color-coded system to explore harmony and melody.
The control panel allows full control over every chord. Move or stack octaves of chords, spread them out by dropping the root note, or voice them in any inversion (there's even a guitar voicing that maps the notes like a 6 string guitar). With the ability to mix and match these settings the user has access to over 1.9 billion chord combinations.

The "Live Note Update" section is completely mind-blowing. Whenever a chord is pressed this area auto updates with 4 octaves of the single notes of that chord. This allows you to easily play melody lines over chord progressions without having to reposition your right hand.
An addition of 24 "direct modulation" and "modal interchange" hot keys unlock some of the most advanced techniques of music theory in an easy to use way.
In the past you would need a comprehensive understanding of theory to even begin to toy with the idea of these 2 techniques. Any scale that is loaded is accompanied by the 7 modes of that scale. This allows you to cycle through and borrow chords (executing modal interchange) to build new and unique chord progressions.

The direct modulation hot keys allow you to shift the root note of the loaded scale to execute on-the-fly key changes. This also makes it easy to find pivot chords that bridge different scales together. There's also a pentatonic, chromatic, and 3 user hot keys for each scale.
The TheoryBoard Thy333 is available on Kickstarter at early bird pricing.
More information: Irijule