iZ Technology Corporation has announced RADAR 6, the updated flagship multi-track recorder.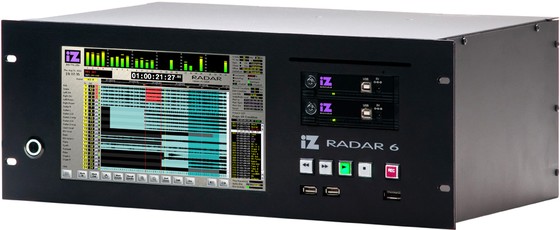 RADAR, the premier choice for hard disk multi-track recording and playback employed by recording studios, scoring stages, theaters, and post production houses around the world, has been updated with new features and improved speed, storage technology, editing, audio performance and user interface.

RADAR has long been the recording platform that offers the highest sound quality on the market. Built with world-class converters, Adrenaline DR technology, dual digital/analog power supplies, near-zero jitter, and near-zero latency up to 192kHz, RADAR systems transcend the digital barriers of sonic quality.

Thanks to RADAR 6's new storage architecture, recording and moving files is fast and easy. You can record 24 tracks at 192 kHz to a 64 or 128 GB SD card and plug it directly into your laptop for use with your favorite DAW. Record and/or copy and deliver tracks in seconds on a USB 3.0 thumb drive. Or record directly to RADAR's high-speed solid-state drives for maximum performance. RADAR's open storage architecture gives you the most options.
New in RADAR 6
Sound Quality: World-class Classic 96 and Ultra Nyquist converters and the new Adrenaline DR technology.
Speed: Direct SATA recording for over 2 times faster cueing editing and data transfers.
Storage: Solid state SATA, USB 3.0, thumb drives and remote network access make recording and file transfer fast and flexible.
Portability: nearly 40% shorter and 14 lbs lighter than RADAR V.
Improved user interface: full front panel controls with tactile transport keys and a comprehensive high resolution multi-page touch screen supporting industry standard wide screen resolutions.
Editing: Comprehensive editing from the front panel touch screen as well as a virtual meter bridge, touch-screen macro keys, multiple mark in/out markers for batch exports and audio CD creation from a single project.
Acoustic Noise: control room ready with super quiet low speed power supply fan and all solid-state storage drives.
Cost: RADAR 6 has a lower retail price than RADAR V.
RADAR 6 is now available to purchase, starting at under $8,600 USD.
iZ also launched its ADA II A/D and D/A converters at the 133rd AES Convention in San Francisco.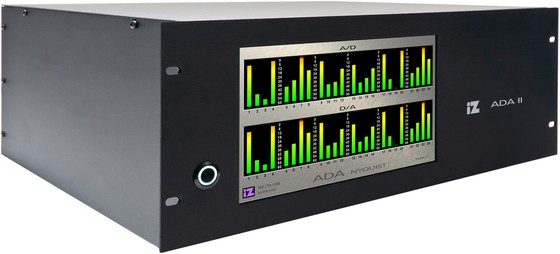 Featuring pristine iZ conversion, and innovative modular I/O structure, intuitive touch screen controls, and direct interfacing to native DAWS and Pro Tools, ADA is a powerful tool designed to meet the creative and technical needs of true audio professionals.

Not only does the new ADA II offer the most transparent, true-to-source conversion available today, it's now even more powerful than the original ADA I and comes with a larger 10.1" higher-resolution display. The user interface is easier to use with the main screen showing both the A/D and the D/A meters. The new front panel is fingerprint-resistant and offers a high-contrast white LED ring-lit power switch.

ADA II supports the 24-channel transformer balanced AES card, and features a new ProTools sample rate error indicator. ADA II is fully compatible with iZ's new Classic 96 and Ultra Nyquist analogue I/O option cards. Each ADA is made-to-order in 8, 16, or 24 channel configurations with customizable I/O ratios. With its ground-breaking modular design, ADA evolves over time as your studio needs change – re-configure I/O ratios and add channel-count to the original ADA frame as required.

With a single touch, ADA's Graphic User Interface controls settings and preferences – including the comprehensive A/D & D/A routing options. Full screen mode brings all 48 high-resolution meters into view for accurate reference monitoring.

ADA connects to Logic, Nuendo, REAPER, and other native DAWs via low-latency, low-jitter MADI digital I/O. For Pro Tools|HD users, add an iZ Dual Pro Tools|HD Option Card to ADA and plug directly into the Pro Tools Core Card. If you want the sonic purity of a RADAR, but prefer to mix in a DAW, you need to get an ADA.
ADA II is available to purchase starting at under $6,700 USD.
Furthermore, iZ's Classic 96 and Ultra Nyquist new generation 8-channel analogue I/O cards are now available, offering the most pristine and euphonic converters iZ has ever produced.
iZ's Classic 96 Analogue I/O card maintains that signature, high-quality iZ audio without compromising disk space. Never harsh or biting, the iZ Classic 96 converter card is optimized to bring clear, transparent sound to studio and live recording applications. The Classic 96 analogue I/O cards boast the same warmth, bottom end, and performance characteristics as the historic Classic analogue I/O cards, but with the sample rate range extended to 96 kHz.

Also available now are the long awaited follow on to the legendary Nyquist (96 kHz) and S-Nyquist (192 kHz) analogue I/O cards: the Ultra Nyquist Analogue I/O cards. With lower noise and distortion than even the famed S-Nyquist design, the Ultra Nyquist analogue I/O cards combine the best attributes of both the Nyquist and the S-Nyquist into one unified design. iZ Technology's Ultra Nyquist analogue I/O cards will lift the blanket off any mix. Characterized by rich, warm tones, with incredible presence and crystal clear highs, the Ultra Nyquist converters preserve audio integrity by providing the highest high-fidelity conversion possible on any recording.
The Classic 96 is available to purchase for $1,295 USD, Ultra Nyquist is $1,995 USD.
More information: iZ Technology Corporation